Waterton Park Hotel
Polly Checkland Harding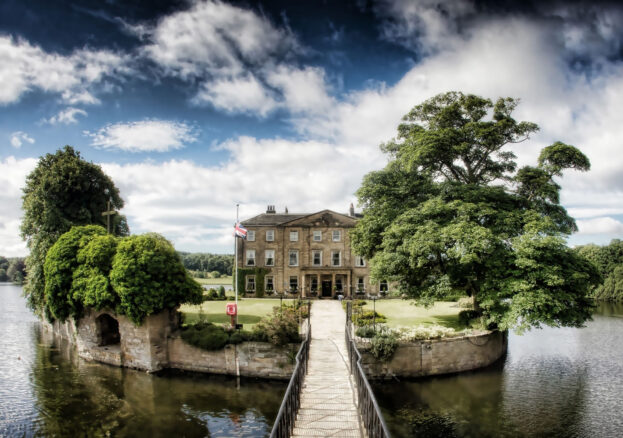 The Waterton Park Hotel is a four-star hotel in scenic parkland to the southeast of Wakefield city centre, reachable by a bus and short walk, or a 16-minute drive. The hotel is split between a majestic Georgian mansion, beautifully situated on an island surrounded by a lake, and a modern, purpose-built hotel on the opposite shore. Walton Hall, which dates back to the 18th century, is home to the AA Rosette Bridgewalk restaurant, private dining, conference rooms, and Charlie's bar, as well as 22 bedrooms. The Waterton Park Hotel has a further 41 bedrooms, as well as a spa. The two are connected by a bridge, and a common commitment to elegance, comfort, and quality.
With a backdrop of ancient woodland and a championship golf course, this is an incredible setting for a hotel; most of the ensuite bedrooms have views over the lake and the 18 hole, 200-acre course. Each individually designed, a few of the rooms even include ornately carved poster beds, while flowers, champagne and chocolate can be arranged to be waiting on your arrival. There's also a private gamekeeper's cottage hidden away on the original grounds of Walton Hall, with two double bedrooms, a sitting room, kitchen and original features – as well as an inclusive full English breakfast for all guests.
Included with room bookings are the leisure facilities at Walton Hall, where there's a state-of-the-art gym, spa bath, sauna, steam room and heated pool on a level with the lake outside. This is a multi award-winning hotel, which has landed accolades including Green Tourism Gold. This credential in particular is a reflection of the history behind the hotel: Walton Hall was built by the father of Charles Waterton, a pioneering naturalist and explorer who built a stone wall around the estate to create one of the world's first nature reserves. Three miles long and 16 feet high at points, the wall cost a staggering £9,000 – £2.5m today. Waterton's legacy and findings are showcased in The Extraordinary World of Charles Waterton displays at Wakefield Museum, whilst also being reflected by the eco-friendly approach of the hotel that takes his name.