Pontefract Castle
Polly Checkland Harding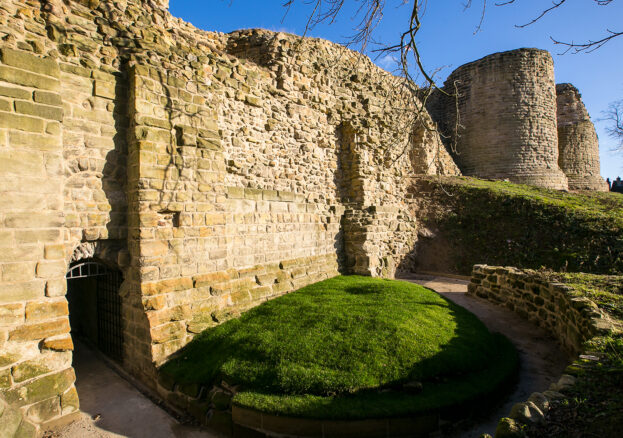 The ancient ruins of Pontefract Castle occupy a commanding position overlooking the historic market town of Pontefract. This was the former fortress that dominated the Yorkshire landscape, nicknamed the 'Key to the North' – now a valuable heritage site and visitor attraction with a café, castle-themed adventure play area, gift shop and visitor centre. Pontefract Castle won the Heritage Award at the Pontefract Civic Design Awards 2019 in recognition of the conservation work undertaken here, particularly the removal of the castle from Historic England's Heritage At Risk Register. This is work that seeks to protect an ancient monument that has been witness to watershed moments in British history.
Pontefract Castle was built by Ilbert de Lacy after he was gifted the land by William the Conqueror, and was later confiscated by King John – an act that prompted Lacy's heir to collaborate with the rebel barons who forced the king to sign the Magna Carta. The castle's role in the royal lineage continued when King Richard II was captured and imprisoned here by Henry VI, an episode that Shakespeare chose to focus on in his play, Richard II, and then again when King Henry VIII visited in 1541 with his young wife Catherine Howard, who was alleged to have had an affair with Henry's courtier and friend Thomas Culpeper. Both were executed. Less bloody, but extremely culturally significant, was the castle's role in the development of liquorice into a confection.
It's this industry that the castle's Liquorice Café in the visitor centre takes its name from. An airy space filled with natural light and with picnic benches outside, the café serves sandwiches, children's lunchboxes, hot and cold drinks, cakes and more. Also in the visitor centre are displays showcasing the history of Pontefract Castle – including the wheel of a cannon, and some very menacing-looking cannonballs, armour, pottery, siege coins minted at the castle when it was under attack during the Civil Wars and a painting of the castle dating back to 1640. Approximately a ten-minute walk from Pontefract marketplace and a half-hour train or 25-minute drive from Wakefield, Pontefract Castle is one of Yorkshire's top heritage sites.