The Riverside
Ian Jones, Food and Drink Editor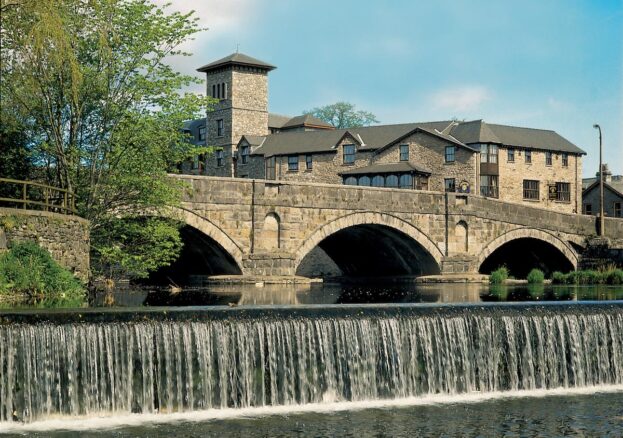 A vast hotel housed in a fascinating former industrial building, the Riverside looks directly over the River Kent. Perfect for large family groups, this is the ideal base for walking adventures.
In the 17th century, the building housed a tannery, lending the structure a fine functional look, and giving it five floors of rooms. Slightly uphill from the hotel you can see the ruins of Kendal Castle, and nearby you'll find the fascinating Kendal Museum. All the other attractions of Kendal are right on the doorstep, and a twenty-minute drive – or, most likely, a hike – gets you to the breath-taking Lake Windermere.
Rooms can be booked room-only or bed and breakfast, and there a grand total of fifty-eight rooms, two of which are small suites. Fifty-one of these are pet-friendly, meaning you can take your dog along with no problems, and the remainder are designated fur-free for those with allergies. All rooms are en-suite, and the majority look out over the river. Guests receive a hospitality tray with drinks and biscuits, a television with Freeview, free WiFi, direct dial telephone, hairdryer and ironing facilities, with secure safes available upon request.
The Riverside Restaurant offers fine dining with locally sourced foods. It's good solid stuff, with fish and chips, burgers, and chicken kievs providing a core menu of hearty mains. Meanwhile, the Tannery Bar provides a more casual pub dining experience, where dogs are welcome. There's a great children's menu, vegan and gluten-free options are provided, and to top it all off, you can sample a range of fine local beers.
As you'll probably have gathered, the big, warm, dog-friendly hotel is perfect for large family groups on walking holidays. Whether you're tackling the high peaks or starting with the more modest but impressive Scout Scar, this is the ideal base camp.