The Joshua Tree
Ian Jones, Food and Drink Editor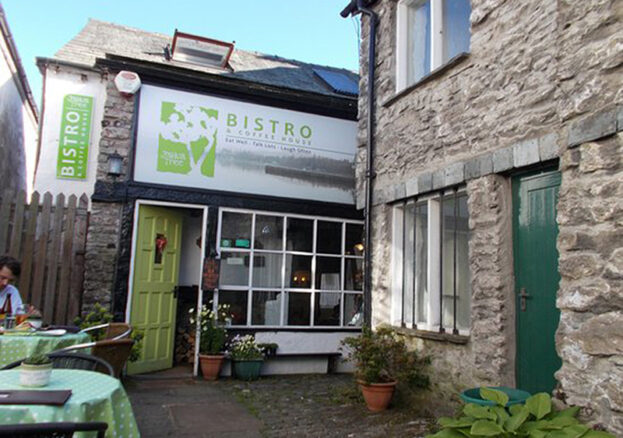 The Joshua Tree is a homely, family-run bistro and restaurant housed in a sixteenth-century building, specialising in coffee and exquisite fish and meat dishes. Between them, owners Nick and Shelley Allen bring many years of hospitality experience to the Joshua Tree, having worked in some of the very best hotels and restaurants around the world. The food is local and seasonal. The building itself is a point of interest, a fine example of traditional Lakeland architecture, perfectly suited to house the fine, unpretentious fare offered by the restaurant. You'll be closely attended to, as the small friendly restaurant has built its brand on return custom.
Starters and small plates include a mixed mezze platter of hummus, falafels, feta cheese and more, a Cumberland sausage baguette – in which the essential local delicacy is served up on sourdough with caramelised onions – and a Scottish smoked salmon bagel, which hops over the border and on to your plate. There's also a Jennings Cumberland Ale Rarebit on a toasted sourdough bloomer.
On the mains, you'll find a gammon steak from amazing Kendal farm shop Plumgarth's, served with a fried egg and skinny fries, a slow-cooked duck leg, and top of the range Scottish rope-grown mussels, full of iron, zinc, and omega-three. Vegetarian options include a Rigatoni pasta tossed in white wine, rocket, and parmesan.
Regular food events include a late-opening Starter & Pudding club, which, as the name suggests, is about Tapas-style small dishes, some from the main menu and others produced especially. In winter, expect a roaring open fire.
You'll find the Joshua Tree in a picturesque seventeenth-century yard near the River Kent. Almost next door, you'll find the amazing Quaker Tapestry Museum. Not too far away, Kendal Castle and Museum provide further ingredients for a fine day of food and culture in Kendal.