The Shakespeare Inn
Ian Jones, Food and Drink Editor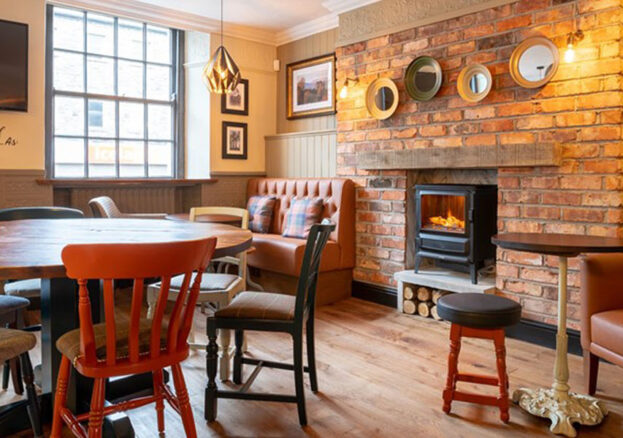 In this refurbished traditional pub with strikingly pure and simple aesthetics, you'll find cosy rooms and a welcoming bar and restaurant, for which the Shakespeare Inn is rightly famous, serving down-home yet artful cuisine in a warm, wood-floored, leather-chaired interior.
Drinks include the old stalwart Guinness Extra Cold, and for the lighter experience, Birra Moretti, plus rotating local brews. And whilst the setting is cosy, the food goes a long way beyond conventional pub fare. Starters include mackerel pate with horseradish sauce, lemon juice creme frâiche, and toasted ciabatta. There are also tiger prawn gambas, and fried squid. Of especial interest is the black pudding, apple, and chorizo salad, made with the finest local black pudding and caramelised apple.
On the mains you'll find the famous Shakey Lamb, a generous shank of lamb on the bone with a mint and herb marinade, Whitby wholetail scampi with homemade chips, sizzling Cajun chicken grilled to perfection, and the astonishing all day Cumbrian breakfast: Cumberland link sausage, finest back bacon, fried egg and local black pudding, served with potato rosti, mushrooms, beans, tomato and eggy bread. There's a mountain you'll be glad to climb. There are also plenty of vegetarian options and desserts.
The Shakespeare Inn offers three double rooms, one family room and one twin room. You won't be overcrowded, and the relatively small size of the hotel means you'll be well attended by the friendly staff. Rooms come packaged with free parking, free Wi-Fi, Satellite TV, and tea and coffee facilities.
Located in the centre of Kendal near all major attractions, the Shakespeare makes a great base for a city-break with added walking and outdoors activities – you'll be in driving and walking distance from Lake Windermere, and on the doorstep you'll find Kendal's array of food and retail highlights, such as the Castle and Kendal Museum.