The Antiques Emporium
Ian Jones, Food and Drink Editor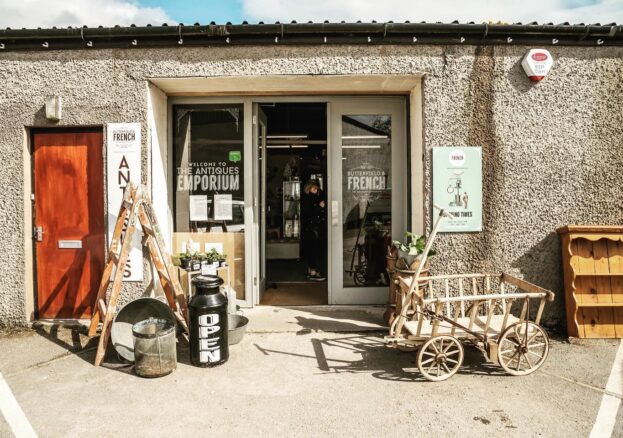 The Butterfield & French Antiques Emporium is one of the best antique stores in the Lakes. Light fittings, lamps, crystal ware, and furniture small to large… The Antiques Emporium has it all. A wonderful place to wander, the Emporium also features costume pieces, pipes, and jewellery.
The Antiques Emporium opened in 2014 and plays host to a network of traders offering antiques, mid-century modern furniture, along with old books, collectables, paintings, kitchenalia, tools, jewellery, and reclaimed industrial items, all overseen by owners Chris and Clare and their Newfoundland, Bella. Visitors receive a warm welcome at this family business, and if you're new to the world of antiques this is a good place to start.
Some of the traders on-site include Mark and Janet, who specialise in tools, workbenches, vices, hand planes and artwork. For those inclined to a bit of stylish horticulture, they also stock vintage gardening tools. Frank sells all sorts of vintage pop culture items including dinky toys, model trains, comics, magazines, and vinyl. Meanwhile, Annie sells wonderful homeware artefacts from all over the world. A business called Elmlath restore vintage wares and produce their own artisan cabinetry, bowls, and utensils. And that's only a small selection. On any given day you'll find a bewildering array of wonderful things.
The Antiques Emporium is an ideal place to check out if you're looking for that special piece for the home, or perhaps a gift for an anniversary, or a souvenir from your time in the Lakes. They are also in the market for buying items and offer good prices for good wares, so if you have something you're thinking of trading, why not get in touch?
The store is located on the west bank of the River Kent, within easy reach of Kendal Station and the hotels.