Kendal Museum
Ian Jones, Food and Drink Editor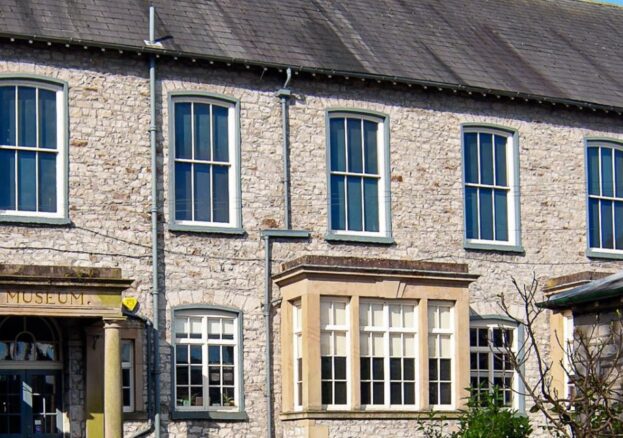 Kendal Museum treats the guest to an impressive collection of artefacts, both historical and natural. The collection includes pieces from all over the world and from the beginning of time to the present, but the real interest lies in the fascinating local history of the region.
The Kendal and Westmorland Gallery houses arrowheads, pottery and other treasures from the Neolithic through Roman times and up to the present day. You can marvel at the precision of prehistoric stone-age axe heads, and learn about later inhabitants of the region, such as the Romans who maintained their lonely frontier fort nearby – leaving behind a well-preserved Bacchus statue and a collection of shoes and coins – or the Viking settlers who left one of their boats in Kentmere tarn. The modern history of the famous Cumberland and Westmorland Yeomanry in the world wars is represented by a full-size horse and rider. This exhibit allows your family can learn about artefacts in context, understanding the daily lives of people living long ago.
The Lakeland Natural History Gallery, currently sited at Brockhole, takes an even deeper dive into the past, with stuffed animals including otters, ospreys, herons, and an impressive eagle, plus stacks of information about the geological history of the region, its climate and its flora and fauna. This is also a great exhibit for teaching your kids about climate change and wildlife preservation. Brockhole is also a great jumping-off point for walks and outdoor adventures.
The third exhibit, the World Wildlife Gallery, features a kaleidoscope of animals from every continent. Thylacines, Musk Oxen, Springboks and many others give a panorama of the global ecosystem. There is an especial focus on birds, with over a thousand specimens on display. These include the extinct Huia from New Zealand, and the possibly extinct Eskimo Curlew and Ecuadorian Turquoise-throated Puffleg hummingbird.