Siam Smiles
Creative Tourist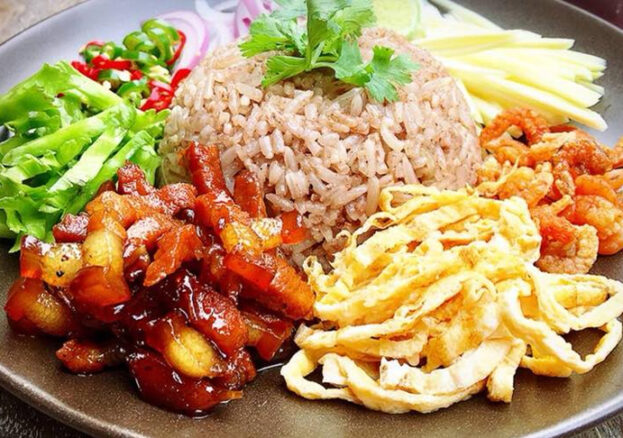 Nothing fancy, just damn good Thai food at reasonable prices. It's a sweetheart story, the quirky, humble kind of place everyone wants to succeed: five tables with cheap plastic chairs lined up along the wall, and a tiny kitchen alcove that you'd swear was incapable of producing anything more complicated than beans on toast. Opposite the tables are shelves of powdered drinks, custard-filled biscuits and crisps in surprising flavours. The Ritz-Carlton it ain't.
But who cares when you can eat like this? The soup noodles here are out of this world – each one I've tried has been better than the last. Tom Yam is a classic kaffir lime and lemongrass-inflected hot and sour soup, and their version, with three kinds of pork, might be the best in town. Kuai Tiew Tom Yam has a robust, chili-infused broth jostling with minced pork, pork balls and noodles, topped with a few pork scratchings. Kuai Tiew Moo Nam Tok is another meaty noodle bowl, with pig's blood added to the broth and chunks of liver to make things interesting. Kind of a weird texture to have in there, I'm told, but good once you get used to it.
They also do rice-based mains: Kow Moo Krob is taut, crisp chunks of pork belly served with some great sticky rice. Kow Mun Kai features slices of chicken alongside a rich broth. Simple and good. Their sauces are particularly great – the one that came with our fish balls (which were fine; fish balls are fish balls as far as I'm concerned) was just the right kind of spicy, with the deep caramel sweetness of palm sugar behind it. Yam Moo Yor and Nam is a salad with slices of Thai sausage amid sauced-up fresh cucumber, tomato and red onion. It was great, even if I wasn't totally sold on the "sausage salad" concept. Som Tam, on the other hand, was a deliciously fresh plate of slivered green papaya, pepper, cucumber, peanuts and dried shrimp drenched in a potent mix of chili, garlic, oil and fish sauce – not for the faint of heart.
The best part of eating here is choosing your drinks from the cooler. You could play it relatively safe with lychee juice or soya milk, but go for the one that looks like it has neon green frogspawn in it: Fresh Pandan Drink. Looks bad, tastes good. As with Siam Smiles itself, it never does to put too much store by appearances. This place may look unimpressive, but the food is worth shouting about.