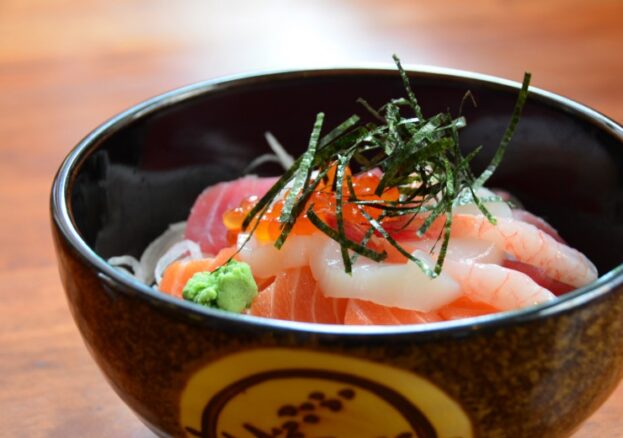 Japanese restaurant Yuzu is the kind of place that beckons you to return– we review it.
Among that tribe of people who follow the fortunes of Manchester restaurants with the keen enjoyment others reserve for football teams, few places are more respected than Yuzu. It's been feted by bloggers and critics from far and wide pretty much since it opened in 2010. Anyone seeking it out for the first time on the strength of the buzz might be surprised at how small and unprepossessing the Faulkner Street restaurant really is. Yes, it's tiny – all light wood and smooth unadorned surfaces, bare in way that Japanese interiors often are. But the heart can't help but lift a little on entering. There's something about holing up in a place like this, with good jazz on the sound system, a little ceramic bottle of warm sake and some small, vivid dishes of Japanese comfort food that can brighten even the grimmest late October night. If you're into sake, you've got six or seven to choose from. Otherwise, there's plum wine and a couple of unusual Japanese spirits, as well as Asahi, Sapporo and Kirin.
Yuzu's bound to confuse people who associate Japanese food with either ramen or sushi. Your heart goes out to the staff here when you imagine how many times they've had to say, "actually, we don't serve sushi," and direct people down the road to Wasabi for their California Roll fix. But they do raw fish and rice all right, just not wrapped up for you – here they serve sashimi donburi-style, with the seafood fanned out over a bowl of lightly dressed rice and shaved radish. You can't fault the fish – on our most recent visit, the Kaisen Don featured gleaming slices of salmon and tuna, sweet raw prawns and taut orange salmon roe that were all gorgeously fresh – as they have to be. There is very little margin of error in such a simple dish.
The rest of the small menu focuses on simple Japanese classics – fried tofu, udon noodles, rice bowls – executed well, with minimum fuss and one or two specials to keep things interesting. Sadly they were out of yakitori on our recent visit, but we made up for it with some addictive chicken katsu, only let down a little by the dismaying lack of curry sauce on the premises (be a snob if you want, we like it.) Gyoza were delicate little parcels of just-cooked seasoned prawns. Handmade on the premises, they knocked the ones you get at places like Wagamama into a cocked hat. Vegetable Tempura was notable for the lightness of its batter, but we wished there were a bit more of it for £5.90.
That's the chief drawback of Yuzu: it's not an ideal place to come if you're ravenously hungry and on a budget – speaking as someone who is always both of these things, I don't get here often enough. The portions are small and the bill can mount up dizzyingly fast. But it's the kind of place you should come, on a cold evening or a gloomy afternoon, to be cheered and restored. And then leave ever so slightly unsatisfied, with wistful dreams of udon lingering about your person as you walk around the corner. Next time. It's not going anywhere, is it?