Sheffield Cable Waterski
Polly Checkland Harding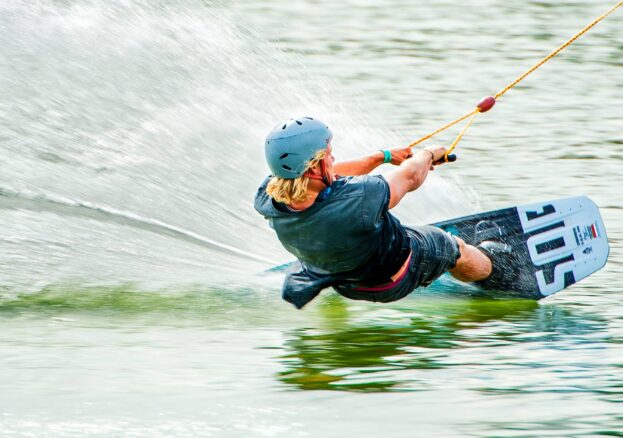 Around eight miles outside of Sheffield city centre is Rother Valley Country Park, home to a nature reserve, three artificial lakes, and Sheffield Cablewaterski. As the name suggests, this is one of the North of England's biggest cable water parks, combined with an outdoor inflatable water assault course that's among the largest in the UK. Here, enormous brightly-coloured bouncy slides lead steeply down into the water, with giant trampolines, spongy runways and an inflatable climbing wall to navigate before being launched unceremoniously skyward from the massive blast bag by someone landing behind you.
Reasonable fitness and an ability to swim at least 25m are necessary to have a go on the obstacle course; there's a swim to the start and you will end up back in the water at some point along the way, so you'll need to be able to pull yourself back up onto the obstacles. Alternatively, Sheffield Cablewaterski is a great place to learn how to kneeboard, waterski or wakeboard: the full sized system here means that groups can ride at the same time, with lessons available for beginners as well as those more experienced. There are even obstacles at the wake park to try your hand at.
Kneeboarding is a good place to start for anyone who's new to cableboarding; the lower centre of gravity that results from kneeling on the board makes the corners of the course easier to get around. Wakeboarding, a bit like snowboarding on the water, sees your feet planted on a single wide board, while water skiing is just as it sounds, with a slimmer board beneath each of your feet. There's a bar and café by the water for refreshments when you've finished your adventure activity, as well as a campsite by the lake with basic facilities if you're looking for a longer stay. It's also worth checking out the on site shop for wakeboarding equipment and accessories.