The Sheffield Tap
Daniel Dylan Wray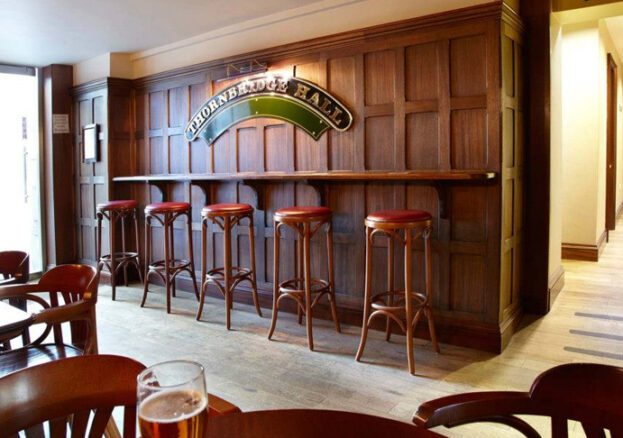 The uniqueness of the Sheffield Tap, lies in its location and building; it's a railway station pub. It's a location normally reserved for bars with terrible beer, a stifling atmosphere, and filled with obstreperous groups – or just bored folk just waiting to be somewhere else. Not so at the Tap, which since it opened in 2010 has become a destination pub; people travel from places all over the country to visit, instead of waiting to get away from it at the earliest opportunity.
The Edwardian building was once the railway station's refreshment and dining rooms. It's Grade II listed and work has been done to keep the architectural and stylistic integrity of the rooms firmly intact, despite the severe damage done by vandalism, and its being left to rot since 1976. Restored with great attention and a little bit of help from the Railway Heritage Trust, the extremely high ceilings, glistening wall tiles and rich mahogany bar make entering the Sheffield Tap an experience in itself. An extended part of the building was opened in 2013, which used to be the first-class dining room. It's a grander, vaster and even more absorbing room, complete with a newly built onsite brewery.
Tapped Brew co. churns out a range of freshly produced beers including milds, bitters, pales, stouts and wheat beers. There's a public viewing gallery over the brewery, meaning you can watch the brewers at work before tasting the end results from the comfort of a chair. However, you'll know its brew day before you even enter the brew room – the smell of malt permeates through the whole building, creating an almost tropical climate. The other advantage of beers being brewed on-site is that they don't have too far to travel (only from one room to the next) so costs are kept down; plenty of the Tapped Brew Co. ales sit below the price of other pints.
So, if you are after a pub that's a little more authentic and traditional, The Sheffield Tap isn't likely to go anywhere soon. Brilliantly dog-friendly too; its values are still rooted in quality, comfort and, most importantly, very good beer.