Hallam Union
Andrew Anderson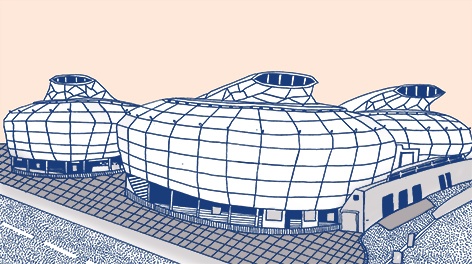 Is it a set of kettles? Is it four fat irons? Otherwise known as The Hubs, Sheffield's Hallam Union has long been a source of controversy.
If a building's success is measured in the number of nicknames it's been given, then Sheffield's the Hubs is one of architecture's most amazing achievements. Depending on who you ask, it's either the kettles, the drums or the curling stones – along with a few other, cruder designations besides. Of course this isn't really how designs are rated, and life has in fact been rather hard for a building that has already been a museum, a bar and boarded up in its short lifespan. Happily though, it has now found its function as the Hallam University Student Union, becoming a distinctive and well-liked part of Sheffield's cityscape.
The range of names for the Hubs probably derives from its strange shape, with its familiar yet foreign feel. The design creates a sort of object déjà-vu: you know it reminds you of something, but you're not quite sure what. Hallam Union is made up of four shimmering orbs of Sheffield steel, each topped with what could either be a handle, or a spout, depending on your viewpoint. The whole thing is linked together by a central glass atrium. When kept clean – the exterior has a tendency to discolour – it makes for a striking and original design, although it's somewhat smaller inside than its large footprint might suggest.
Depending on who you ask, it's either the kettles, the drums or the curling stones
Not everyone is enamoured with its looks though: Hallam Union was voted the world's ugliest building by a 2011 poll, a rather unfair choice given that there are concrete monstrosities on the same street that are far less attractive, let alone in the wider city – or the world beyond. Designed by Nigel Coates Architects, the Hubs were rather divisive when they opened in 2001. Despite being clad in Sheffield steel, the building was seen as an out-of-place piece of modernity, akin to the egg box-like Town Hall extension that was, incidentally, torn down a year after the Hubs were completed. The Hubs did, however, have an advantage over the Town Hall in that it was made to house the National Centre for Popular Music – a far more exciting purpose than simply being a box for bureaucrats.
The museum made up a key part of Sheffield's re-branding as the country's music capital, an idea intended to inject further life into an economy still suffering from the job losses of the 80s and early 90s. However, while the city has a great music heritage – from the Human League to Pulp and the Arctic Monkeys – calling yourself something doesn't make it so. The predicted 350,000 visitors a year never materialised and the National Centre for Popular Music closed within 18 months of opening. Some attempts were made to rekindle the idea, with additional millions invested, but nothing came of it.
For a short while the Hubs was used as a music venue under the BarFly brand, but its proximity to the already successful Leadmill meant it was working in a saturated market. Finally, in 2004, Sheffield Hallam bought the building, and it reopened shortly after as the new student union. Like a pair of ill-fitting wellington boots that actually make a rather nice flower pot, the Hubs has worked far better since it was repurposed.
Where once visitors complained it was too small to justify ticket price, now its size makes it cosy, atmospheric and convenient. Where once its off-centre location meant it went unnoticed, it now seems to have hunkered down amongst the many student flats that have begun to dominate this part of town. Where once the exterior made it look like a 1970s public convenience, now it fits in with other steel structures that have popped up around the city, such as the wall-fountain at Sheffield Station. This is truly a tale of a building being born again – although, unlike a Christian rebirth, more rather than less alcohol is now involved in its daily life.