Great North Museum: Hancock
Creative Tourist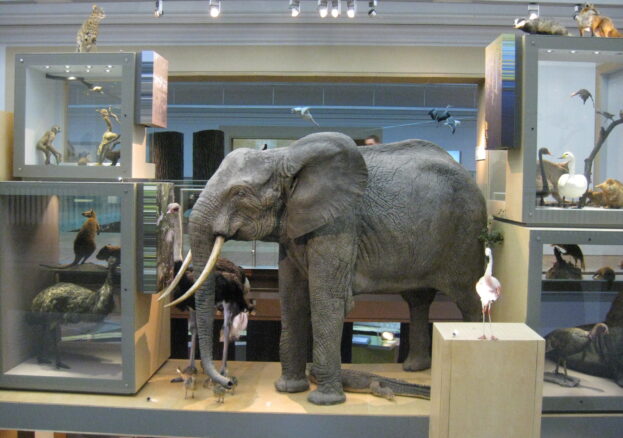 The Great North Museum: Hancock is Newcastle's natural history museum, but it also covers the fascinating history of ancient civilisations.  Entering the museum, you will be welcomed by animals from all over the world, in the form of John Hancock's personal collection of taxidermy, gifted to the museum in 1884.
In the museum, there is something for everyone, from science and history,  to archaeology and ecology, all under one roof. A good place to start is the fossil stories exhibit, where you can learn about the dinosaurs, standing underneath a life-size Tyrannosaurus Rex skeleton, before moving onto the Ice Age and the human story of Northumbria.
You will go on a journey through time, from stone age hunter-gatherers through to the start of the Iron Age, with amazing artefacts and treasures hidden under the ground for thousands of years.
Something for everyone, from science and history,  to archaeology and ecology, all under one roof
Entering into recorded history, the Hadrian's Wall display tells the story of conquest and occupation by the Roman Empire. Here you can discover the Roman Empire's most northerly frontier and how people from all over the Roman Empire transformed the North East of England, by settling and living side by side with the native population.
Following the Romans, a small display of Anglo-Saxon relics from the Kingdom of Northumbria gives us a wonderful view of the not-so-dark ages.
Upstairs, you will be able to learn about the ancient cultures of the Mediterranean, with Greek, Etruscan, and Egyptian objects for you to see. There is also an area dedicated to the natural history of Northumberland, with a fantastic display of animals and plants native to the North East, where you can learn how the landscape has shaped both the animal population and human settlements.
Great North Museum: Hancock also has an environmental section, showing how humans are looking at preserving this landscape and protecting it in the face of climate change with green energy and new land management. Meanwhile, if an out-of-this-world experience is something you are looking for, the planetarium is open with trips to our moon and solar system occurring throughout the day!  On top of this, there are several temporary exhibitions in the museum throughout the year, which are listed on their website.