Manor House Lindley
Johnny James, Managing Editor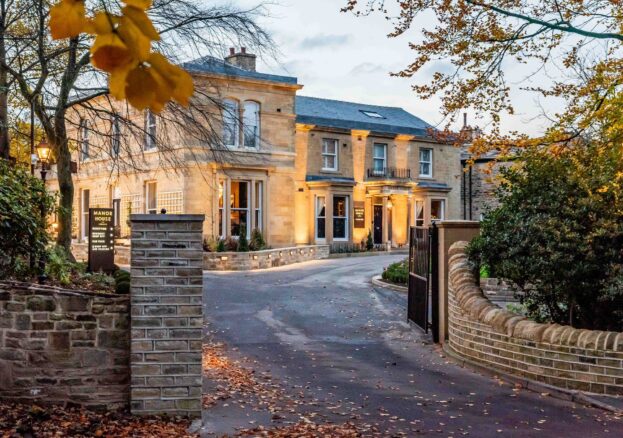 Tucked away in a leafy residential neighbourhood a couple of miles out from Huddersfield town centre lies the stunning Manor House Lindley – a luxury hotel boasting eleven uniquely-styled bedrooms, two restaurants, and three bars.
Set in a stunning Georgian manor house, the hotel's 11 bedrooms are beautifully designed, each with a unique personality. They're split into three categories: Diamond, Platinum and Gold. The most luxurious room – in the Diamond category – combines cutting edge design with classical Georgian architecture to create an opulent and dramatic master suite, fitted with a four-poster bed, marble bathroom and decadent drapery.
With something to suit every taste, Manor House Lindley also offers Nordic-style, Victorian-style and new England-style rooms, or if you're planning a long stay, or a night of ultimate luxury, why not treat yourself to The Apartment. This home-from-home sprawls over two floors and features a four-poster bed, en suite, traditional Victorian lounge and fully equipped kitchen. It also has its own driveway and entrance, for total privacy.
Book a night in any room and you'll have access to The Studio – a high-spec and intimate gym space with a team of experienced trainers who are passionate about both physical health and wellbeing. Feel free to workout solo – with or without a trainer – or if you prefer to exercise with a group, then you can take advantage of a range of classes.
Another big draw of Manor House Lindley is its two restaurants. Head Chef John Brewster crafts delectable menus with real flair and finesse, from breakfast through to fine dining in the evening. The Lantern Room is a feast for the senses with a beautiful floral ceiling and dazzling décor, and an ever-changing menu reflecting the seasonality of the produce.
If you're looking for a more relaxed meal, you can head to The Kitchen Bistro, an airy, sun-drenched space with a wholesome menu of fresh, seasonal ingredients. Artisan bread and patisserie are freshly-baked each day for breakfast, lunch and afternoon service, and meals range from avocado brunches to handmade cruffins and cronuts for coffee time, through to hearty stuffed pasta.
And if you're one for a tipple, there are plenty of options. Beneath glittering chandeliers sits the Clock Tower Lounge, where by day you can enjoy a glass of champagne and partake in the great British tradition of high tea. When the sun goes down, the mood changes, and it becomes a great spot for cocktails. The bar also stocks an array of local beers, plus quality wines and spirits.
If you're looking for a more heady drinks menu and louder music, you can head downstairs to The Lindley Cellars – an atmospheric den with a large screen, booth seating, an extensive drinks menu and delicious sharing boards to graze on. It's a dark and dramatic space, perfect for late-night antics. In the summer, meanwhile, you have the option to head to the Rooftop Terrace Bar for cocktails overlooking St. Stephen's Church and the iconic Clock Tower.
As well as being a great spot for a private break, Lindley Manor House is the perfect place for larger functions. Whether it's a big birthday, corporate event or any other occasion where amazing food, service and style are required, Manor House has a space and menu to suit. The hotel is also one of the most sought after wedding venues in the north of England, and features six licensed rooms to choose from to host the ceremony. Or for a more traditional service, the beautiful St Stephen's Church is just across the road.
A stunning hotel that will leave a lasting impression, Lindley Manor House is a great spot for a few days of decadence.