Byram Arcade
Johnny James, Managing Editor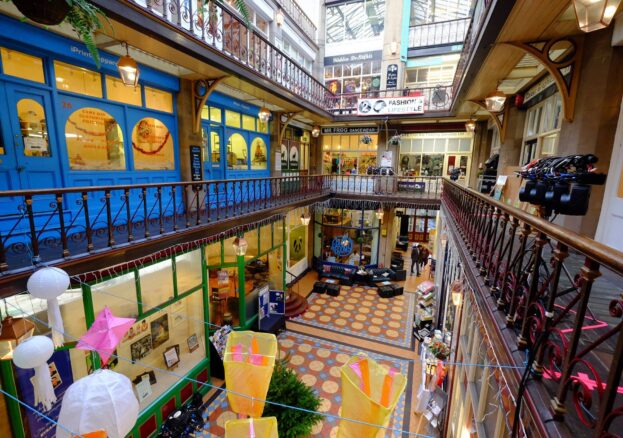 Boasting three floors of independent shops, designers, cafés and restaurants, Byram Arcade is a stunning Victorian shopping and business hub set in the heart of Huddersfield.
Completed in 1881, Byram Arcade is an architectural gem, with period features and a cathedral-high glass roof. Located in Huddersfield town centre, it proudly promotes some of the area's most well-loved retailers and businesses – from shops to beauty salons to restaurants. Here's a look at what you'll find inside.
Let's start with Byram Arcade's three arts and crafts shops. Crafty Praxis celebrates the handmade and unique, exclusively stocking the work of UK designers, as well as a range of commercial and independent yarns. Calder Art Supplies is a purveyor of fine art, graphics and craft materials that prides itself on stocking the very best art supplies available. And completing the tripartite, Yarntelier sells the highest quality Yorkshire-spun cashmere yarns, books and patterns.
There are also some great clothing shops in the arcade. Founded in 2008, The Left Bank is a boutique that makes exclusive, limited edition clothing and accessories for both men and women. Hidden De-Lights, meanwhile, is an alternative shop that sells quirky clothing as well as crystals, incense and essential oils. Finally, for more than 15 years Timberwolf has been a leading local retailer of outdoor leisure clothing and equipment, with a specialism in ski and snowboard clothing.
Byram Arcade is also well-known for its range of hair and beauty salons. Urban Escape offers the discerning client a full range of up-to-the-minute beauty treatments and services, while Square Ten is an award-winning nail and beauty salon offering bespoke nail treatments and enhancements. And if it's a haircut you're after, you'll get luxurious treatment at both XTG Hairdressing and Westgate Barbers, both of whom have won awards for their services.
The bars, cafés and restaurants on offer at Byram Arcade are a big draw for locals who like to eat and drink independent. At Arcade Coffee & Food you can enjoy Dark Woods Coffee of Slaithwaite, treat yourself to one of their famous cocktails, or choose from a great breakfast and brunch menu. Arcade Beer & Liquor, meanwhile, stocks an extensive range of local and international beers, which you can take away or enjoy in a welcoming taproom. And if you're after a more substantial meal, Lebanese restaurant Med-One brings the true taste of the Mediterranean to Huddersfield, with a full menu of hot and cold dishes.
All this in addition to jewellers, florists, tattooists, photography studios and more makes Byram Arcade a must-visit next time you're in Huddersfield.