Crafty Praxis
Johnny James, Managing Editor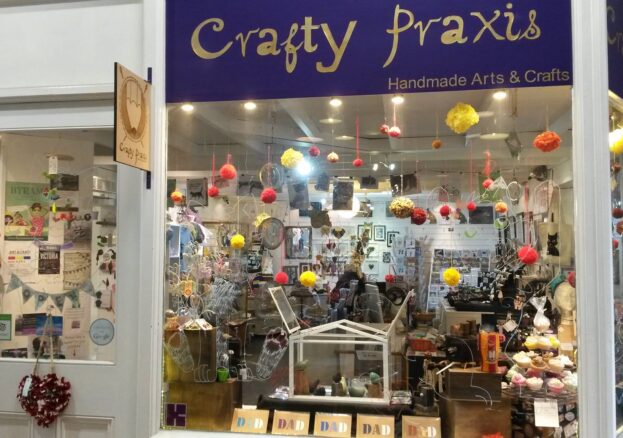 Located on the ground floor of the architectural gem that is Huddersfield's Byram Arcade, Crafty Praxis is an arts and crafts shop that celebrates the handmade and unique.
Established in 2012 and transferred to new owner Katie Rayner in 2020, Crafty Praxis is a great place to buy handmade arts and crafts from a huge selection of local and national makers. In the sizeable shop, you'll find everything from artwork to jewellery, ceramics to greeting cards – all made by artists and designers selected for their unique designs and quality of craftsmanship.
Crafty Praxis also incorporates a yarn shop, which contains both commercial and independent yarns, kits, fibres and equipment. With Katie being a great champion of local businesses, the independent suppliers are all from Huddersfield – Aldersign, The Feminine Touch Designs, Mill House Designs, Yarntelier and Crafty Dragon to name a few.
In addition to high-quality yarn, all of the aforementioned designers supply patterns to the shop, available as books or single patterns. There's also a great range of equipment and notions on offer, such as yarn bowls, nostepinnes, needles and hooks (vintage and new), buttons, counters, markers and many other useful bits and bobs.
Finally, Crafty Praxis is not just about selling crafts. They also run workshops, both in the local community and in the Byram Arcade. So if you'd like to learn how to knit, crochet or have a go at other woolly crafts, check out the Crafty Praxis website, which features the latest information about what's coming up.