Thai Sakon Restaurant
Johnny James, Managing Editor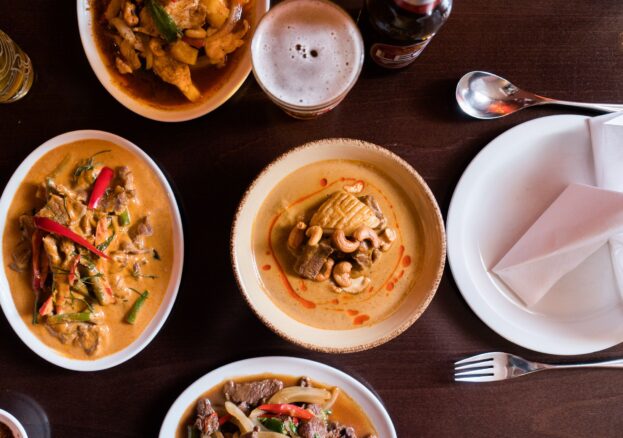 A hidden gem in the heart of Huddersfield town centre, Thai Sakon provides authentic Thai cuisine in a relaxed and friendly environment.
The restaurant was established in 2005 by a husband and wife team, one of whom hails from Sakon Nakhon in the north-east of Thailand. After working together in a Thai restaurant in Halifax, they decided to carve out their own path in Huddersfield, and now own one of the town's most popular restaurants.
Sleek and spacious, the interior is decorated in contemporary style, with a few eastern touches to set the mood. Walk through the door and you'll find a lounge and bar area that you can relax and have a drink in, before heading to one of two dining rooms, both furnished with large, well-spaced tables made to accommodate many dishes – true Thai eating!
The menu features an extensive array of traditional dishes as well as some that cater to western tastes. All are prepared with high-quality ingredients, including fresh herbs, spices and exotic vegetables delivered every week from growers in Thailand. Chilli, of course, is a key part of Thai cuisine, but for those of you with a more sensitive palate, don't worry – the chef will happily adjust the heat of any dish on a scale of one to three.
Thai cuisine is loved for its aromatic curries, and Thai Sakon serves up all the big hitters – from red and green to peneng, massaman and jungle curry, with the latter being a favourite of those who like it hot. There's also an adventurous list of stir-fried dishes whose origins span the whole of Thailand, many seafood options (the prawns, as noted by many customers, are huge) plus some intriguing chargrill dishes. And of course there are plentiful rice and noodle plates, from the popular (pad thai) to the niche (the pineapple-meets-prawns khao pad sapparot).
Thai Sakon is also great for vegetarians and vegans, offering as many as 23 meat-free options. And if you've any other special dietary requirements, or simply want a bit of guidance on your food choices, the waiting staff – who are all Thai and know the menu inside out – will make sure you get exactly what you want. And the cherry on the cake: they serve a great selection of Thai wine and beers, brewed specifically to compliment the flavours of Thai food.
Tucked away on St John's Rd in Huddersfield town centre, Thai Sakon is a fail-safe option for those who love authentic Thai food.