General Store MediaCityUK
Ian Jones, Food and Drink Editor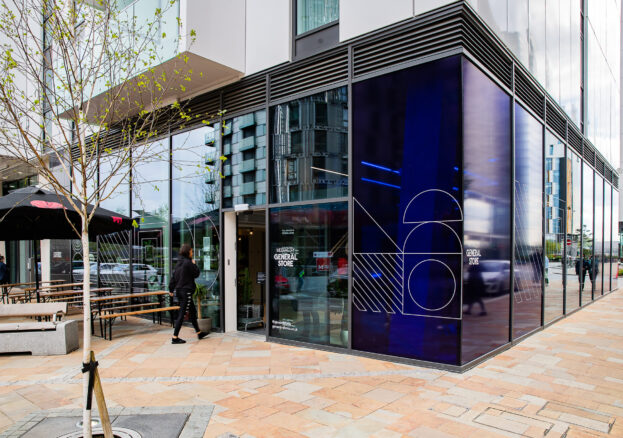 More than just a general store, General Store MediaCityUK is a one-stop-shop for retail and food. This two-storey venue has a mezzanine space used as an alcohol emporium, an on-site coffee shop, plus a rotating list of street-food vendors.
General Store MediaCityUK can be found on the ground floor of the recently completed Lightbox development, just yards from the Coronation Street set. For the warmer months, there's an outdoor seating area for up to 30 covers, where customers can enjoy food and drink with a view of the increasingly scenic MediaCityUK. And matching the area's dog-friendly atmosphere, you can feel free to walk your canine around the store and sit down to relax.
Clocking in at 3500 sq ft, this is a great example of the forward-thinking General Store brand, showcasing some of the North's best independent food brands, from Nell's Pizza to The Great North Pie Company. And of course, they sit alongside convenience store staples, from the essential (toilet paper) to the very essential (locally brewed beer).
An on-site coffee counter serves freshly ground Ancoats Coffee, alongside juices, smoothies and cold brews. As well as a constantly changing lineup of street food vendors, there's be regular guest spots from the likes of Just Natas and Cafe Lupo Italiano, who pop in regularly with fresh, local bakes, cakes and more.