Syria: A Conflict Explored at IWM North
Sara Jaspan, Exhibitions Editor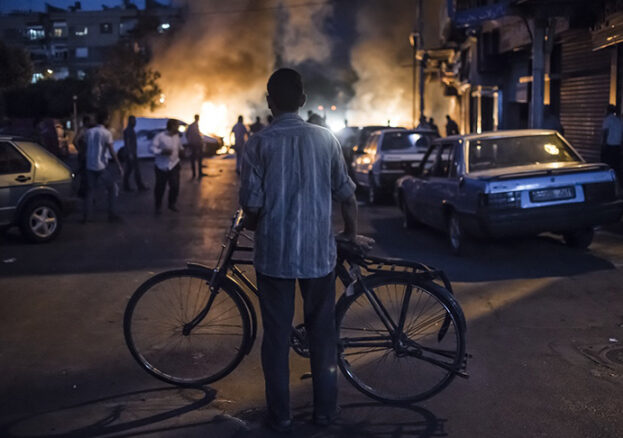 Once relatively stable, Syria has now been ranked as the world's least peaceful place for over five years running. The country is gripped by a civil war that has so far claimed the lives of nearly half a million people and left nearly 11 million displaced, while its towns and cities lie in ruins, and families and communities have been torn apart. More than a national conflict over freedom and democracy, the fighting has also been shaped by external intervention from regional and world powers, turning Syria into a proxy battleground. Alongside all this, the deliberate spread of misinformation by multiple opposing forces and the barriers to foreign reporting have only shrouded the deeply complex, constantly-evolving situation in even further layers of obscurity.
As part of Conflict Now, Imperial War Museum North is embarking on a season of exhibitions and events that will attempt to cut through the confusion and complexity, providing visitors with a deeper, more objective understanding of what is happening in the country today. Drawing upon photography, film, immersive experience, first-hand accounts and direct conversation, Syria: A Conflict Explored sets out to represent a broad range of perspectives on the crisis and bring the information we have available into question.
A good place to start is with a visit to Syria: Story of a Conflict (16 Feb – 28 May) – an exhibition that will examine the origins, escalations and impact of the ongoing war through a display of related objects, a new installation film, and the personal stories of Syrian people. It will also tackle the role that propaganda has played in shaping international understanding – a subject that extends into an accompanying display of over 60 photographs by the award-winning Russian documentary photographer Sergey Ponomarev, who uses colour and composition to highlight important, easily overlooked details.
Accompanying both exhibitions, the season will also feature Conflict Café: Conversations About Syria (17 Feb, 5 May), which gives visitors the opportunity to learn more about life in the country, through talking to people who either lived or worked there both before and during the war. Finally, I Swear to Tell the Truth (15 March – 27 May) takes the form of an immersive 'experience' by creative collective Anagram that asks: is confusion a weapon being used to stop the international community from acting, and who controls the fog of war? Exposing the algorithms of media moguls and the impact of social media on how we see the world, this engaging piece promises to leave audiences acutely aware of the need for ever-increasing levels of scrutiny and discernment when dealing with the information presented to us.
Overall, Syria: A Conflict Explored looks set to provide an invaluable, richly layered perspective on what is one of the worst humanitarian crises of our time.