House of Fu Manchester
Ian Jones, Food and Drink Editor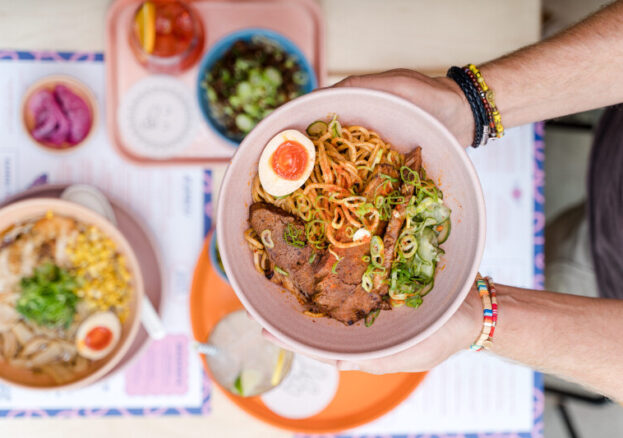 House of Fu opens its doors in Manchester on Friday 20 October 2023, offering classic and exciting bowls of ramen, vibrant rice dishes and homemade gyoza, paired with carefully selected cocktails, craft beer, sake and wines.
You'll find it on Manchester's Portland Street, in the space once occupied by the Architects Society. As well as ramen, rice bowls and small plates, the venue will also serve as a late-night party spot with state-of-the-art karaoke rooms and private dining room, offering a feasting menu for parties of up to 30, alongside their everyday menu.
Bowls of ramen, vibrant rice dishes and homemade gyoza
House of Fu launched in 2014 as a smash hit pop-up at Belgrave Music Hall in Leeds, and was soon awarded 'Best of the Best' at that year's British Street Food awards. It then popped up at various venues and music festivals as the team developed the idea, testing out ideas collected on inspirational trips to New York, Tokyo, Portland and Los Angeles. The first site opened in 2021 on Leeds' The Headrow, gaining a loyal following for its smart flavours and creative takes on Japanese favourites such as gyoza, katsu and tonkotsu broth.
Owners Simon Stevens and Ashley Kollakowski said, "Manchester is home to some of our favourite restaurants and shops and it's been great getting to know the city a little more whilst looking for a home for House of Fu. We've developed some incredible new dishes for the Manchester menu which we can't wait to share with you alongside the obvious hits like our spicy tantanmen and the sleeper fave, the cucumber salad."
While the entire House of Fu team is heavily influenced by the bowl culture and aesthetics of L.A. and Tokyo ramen bars, the team is known for their collaborations with local artists and creators to create eye-catching merch. As the plans for the space develop, the House of Fu team will be scouring Manchester and the surrounding areas for the suppliers, makers and creators who will help to shape the look and feel of the Manchester space.