Shoryu Ramen Manchester
Creative Tourist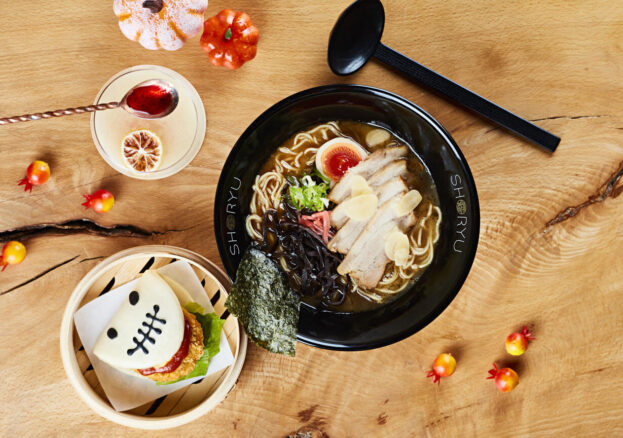 Halloween at Shoryu Ramen:
Shoryu Ramen Manchester has launched a menu full of deliciously devilish delights, just in time for Halloween. This includes a two-course Halloween-inspired set menu which includes a cocktail or mocktail for just £22. This is available from Monday 18th October to Sunday 31 October.
The first course transforms that famous Halloween symbol, the pumpkin, into a delicious starter. The Pumpkin Croquette Bun is complete with pumpkin croquette, iceberg lettuce, cucumber, Hirata sauce with Japanese mayo and features an equal parts ghoulish/cute skeleton decoration on top.
With a nod to the most famous vampire of all, the second course is the Dracula Tonkotsu Ramen, complete with power up tonkatsu broth with caramelised black garlic mayu served with garlic chips.
If you're a fan of all things spooky, and can't wait to get your teeth into this year's Halloween celebrations, a meal at Shoryu Ramen is the perfect place to kick things off.
Full review:
You can't miss Shoryu Ramen in the centre of Piccadilly Gardens, with its logo emblazoned across a deep blue curtain. One of the few places where you get your own little fanfare as you enter, hearing the beating of a drum and a waiter's call of "Irrashai-mase" is as good a way to start a meal as any. With their new specials and Olympic-inspired "Games Set Menu", a Shoryu Summer is shaping up to be gold-medal worthy across all boards.
Ramen lovers can rejoice at Shoryu's Summer Specials rollout, featuring unique dishes created by their head chef that are as creative as they are delicious. Be on your marks when you sit down and take a sip of sake from their extensive menu, served either hot or cold to your liking.
A Shoryu Summer is shaping up to be gold-medal worthy
Then, get set for your meal with a bite from their BBQ Pork Buns or Pumpkin Croquette Buns if you prefer, whichever you prefer to have in your bao pillows. Properly set off into your meal with one of their new, unique mains of Chilled Vegan Summer Ramen or Chilled BBQ Pork Summer Ramen.
Straying from the norm of piping hot broth, enjoy firm noodles coated in cool sauce and surrounded by plenty of toppings to fill you up. Take a breather with a Suntory Highball, featuring the famed Suntory Toki in a tall glass to be enjoyed with ice and good company. Finish on a high note with scoops of ice cream with delightful flavours like matcha, yuzu and chocolate miso.
Take advantage of the 2 for 1 Toki Highball offer running until the end of September and their limited edition chilled ramen bowls now. Book your table when you get the chance as the marathon to the end of quarantine comes to an end.