Cutting Room Café & Bar
Sarah-Clare Conlon, Literature Editor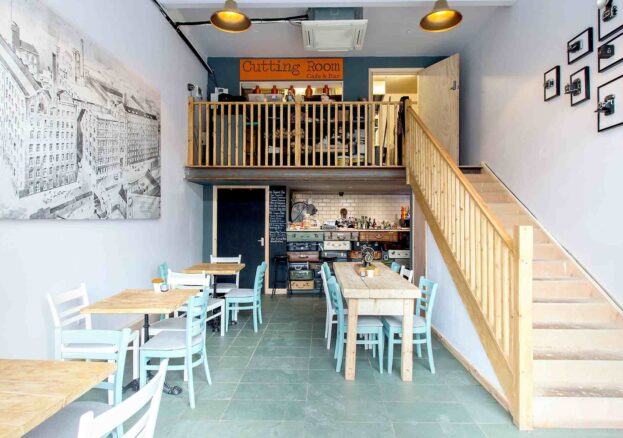 We dropped into newcomer to Ancoats Cutting Room Cafe and Bar – and found out the latest news about the area while we were at it.
For those who like the look of Neapolitan pizza joint Rudy's Pizza in Ancoats (which we highly recommend), we've a treat in store. Just across the square it opens out to there's another newcomer to the area: Cutting Room Café & Bar. It's closer to the lovely vista of St Peter's Church, beautifully lit-up at night and home to the Hallé orchestra – and wonderfully friendly inside, if a touch cold (well, it is next to The Ice Plant building).
Despite having something of a hairdressers look from the outside (the name doesn't' help), Cutting Room Café & Bar has gone to town on the retro bric-à-brac accoutrements inside; there are vintage cameras mounted in picture frames on the wall, a Singer sewing machine and manual typewriter, as well as a wall of old suitcases propping up the bar. We didn't get a chance to eat on this visit, but the food's on all day from breakfast, with a nice-looking evening menu of burgers, stews, risottos and salads.
We ended up chatting to the staff about upcoming projects, including a market & high-end restaurant
Wine, though, we did try – a glass of organic Pinot Grigio and a drier house Frascati, to be precise. Both were good quality and kept properly in a wine fridge, which pleased us no end. There's also a good selection of reds, while, beer wise, Amstel, Moretti and Sagres are all on tap, with bottles including Erdinger.
Most interesting of all, we ended up chatting to the staff about upcoming projects, including a market for local and organic suppliers in the space next to Rudy's Pizza, and, early to mid-2016, a more high-end restaurant, Goose Fat & Wild Garlic, in the Fairburn Building. However, the empty concrete shell right next door to the Cutting Room Café and Bar is set to become a sports bar, which we're a bit nervous to hear. But unless the place gets rammed with blasting screens, bad beer and anti-social lads-lads-lads, we'll be back for things like the Cutting Room's Wednesday-evening quiz, complete with food and drink taster rounds. Fingers crossed.
For Cutting Room Cafe & Bar's opening times and location, read our venue guide.