Rudy's Pizza
Sarah-Clare Conlon, Literature Editor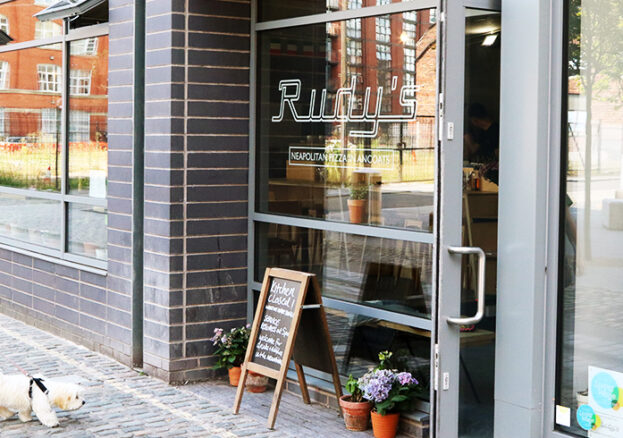 Founded in 2015 by Jim Morgan and his partner Kate Wilson, you'll find Rudy's Pizza in cities all over England these days. But there can only be one original…
Rudy's is the OG of Cutting Room Square, the bustling centre of Ancoats around which new apartment blocks, hospitality endeavours and cultural gems seem to be popping up every time you turn your back. This area used to be known as Little Italy, where ice cream was once made and served to loom workers from hand-pulled or horse-drawn carts. Apt, then, that a pizzeria should have been at the heart of the matter during the next stage of Ancoats' evolution — especially one proclaiming to be run by "Neapolitan pizza makers and enthusiasts following the cultural traditions of Naples."
So far, Rudy's Pizza sounds buonissimo, right? But what does this tradition actually translate to? Ruddy (sorry) tasty pizza, that's what. To create the "soft, light and floppy" base that's perfect for carving into pieces and scooping into your mouth with your fingers, the dough is made on site and left to prove for 24 hours. It's then shaped into non-uniform bases, topped with lovely fresh ingredients and shown the hand-rendered gas-and wood-fired clay oven for a mere 60 seconds. Though Rudy's menu is fairly limited – with nine regular options and a special on the board, it does offer up some unusual combinations. The Lardo, with a speciality cured meat, eggs and spinach was new to us (and comes highly recommended). There's unique ingredients like ancozzesa, a Tuscan sausage, and little twists on the norm – the chefs use marinated white anchovies rather than the usual salty little brown devils, for example.
My partner had an anchovy option, the Tarantina, combining the fish with olives, capers and mozzarella on a tomato sauce. I also went for a tomato and mozzarella-based pizza, that day's special, with prosciutto crudo, wild rocket, basil and Parmesan shavings. Both were delicious, though we agreed mine had the edge, with the fruity extra virgin olive oil Rudy's use really bringing the flavours together. And if tomatoes aren't your bag, there are a number of "white" pizza options. I've got my eye on the mushroom one for next time – I think the bottle of Sicilian white we shared would wash it down quite nicely.
Watching head chef and co-owner Jim at work in the open kitchen helped us digest, and with its pale wood tables and stacking chairs, and grey concrete floors uplifted by splashes of colour from original artworks, tins of pomodoro and pot plants, Rudy's has a laidback feel. There's no need to clear off when you've eaten, and just having a drink or a coffee is fine, although takeout pizza and lunchtime panuzzo "warm pizza dough butties" are also available if you're in a rush.
To wrap things up in the Italian way, we had the plum and gin ice cream, sourced, as Jim's partner and Rudy's co-owner Kate, told us, "from a lady down the road" (aka Ginger's Comfort Emporium, the roaming vintage ice cream van and permanent unit in Afflecks). When in Little Italy…