Another Hand
Anne-Marie Pattenden, Food & Drink Writer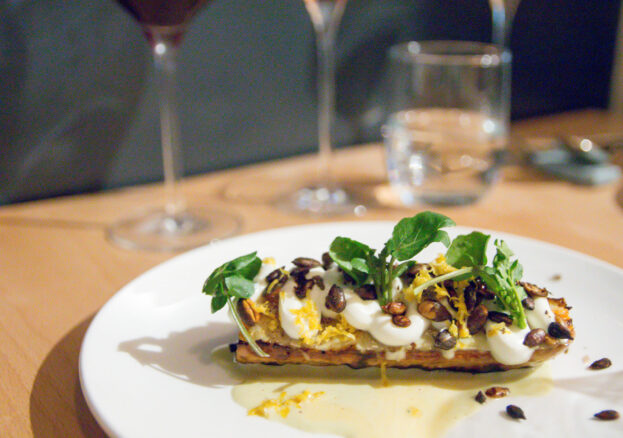 Another Hand opened earlier this month with an exciting brunch menu, tucked away in a relaxed corner sheltered from Deansgate noise. It's brought to you by a trio of co-owner/chefs: Julian Pizer and Danny Foggo from 3hands deli, plus Max Yorke from Edinburgh Castle and Hispi. (Danny also still works with Holy Grain Sourdough Bakery.) We popped in to sample their newly launched, small-plate evening menu.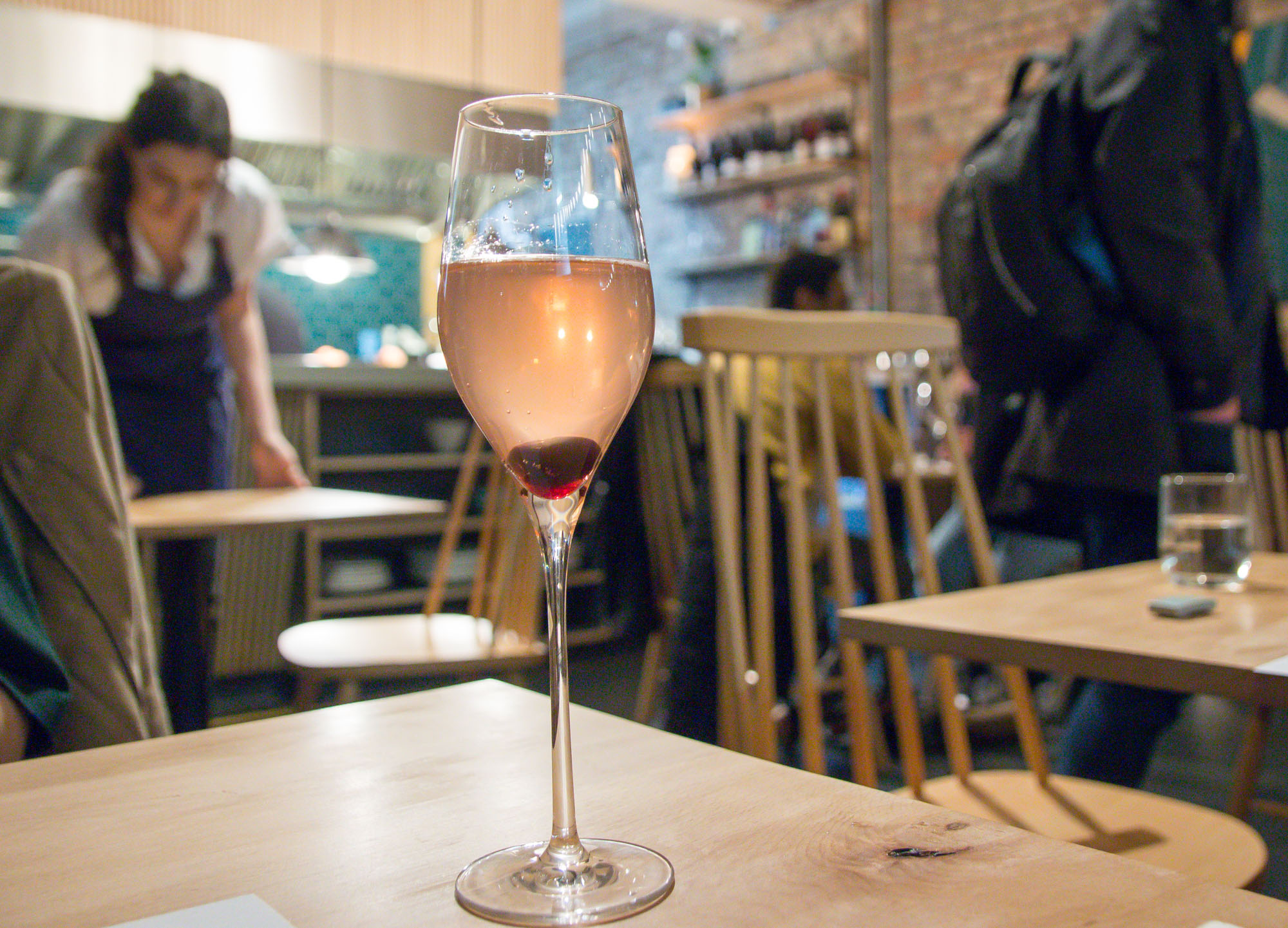 As you walk in, you're immediately face-to-face with the pleasing sight of chefs busy at work in the bright, tiled open kitchen. Next, you notice the beautiful dark teal walls and contrasting burnt orange soft furnishings. The abstract artwork on the walls emphasises both colours, helped by the soft, low lighting and exposed brickwork.
Our elegant welcome drink is a delicious Prosecco spritz flavoured with grapefruit simple syrup and maraschino cherry. While enjoying this, the bread arrives – and it's fantastic. The wholemeal star of the show is from Holy Grain: thick slices of heavenly crisped dark crust and fresh pillow-soft middle are accessorised with whey butter, sprinkled with rock salt and a mossy green powder of dehydrated three-cornered leek.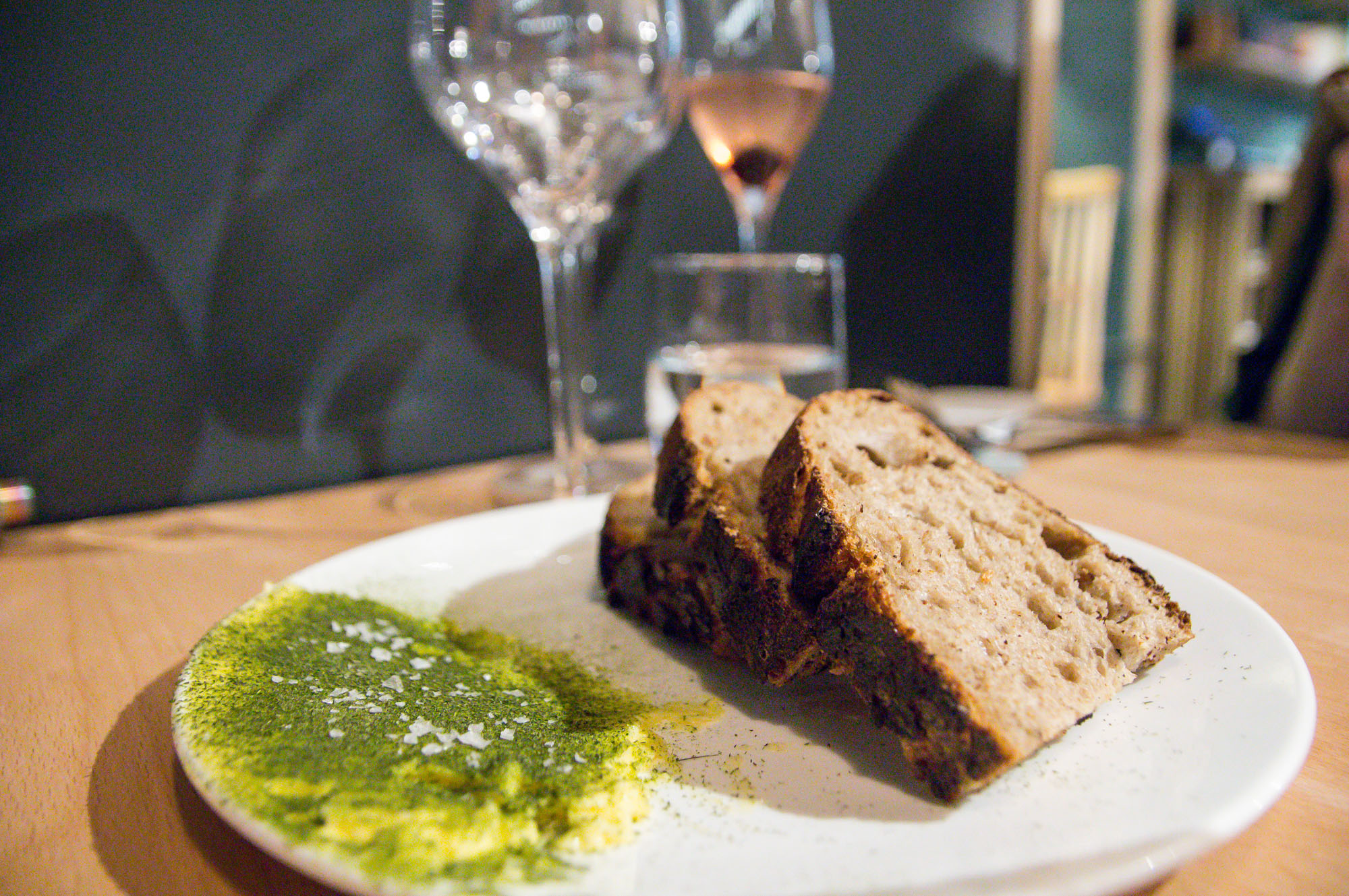 From the carefully curated natural wine list, we order a superbly fruity Côtes du Rhône by organic producers Les Vignerons d'Estézargues to go with the next two dishes. A ponzu cured egg yolk and charred slices of celeriac nestle on top of a finely cut tartare of beautiful Hereford beef.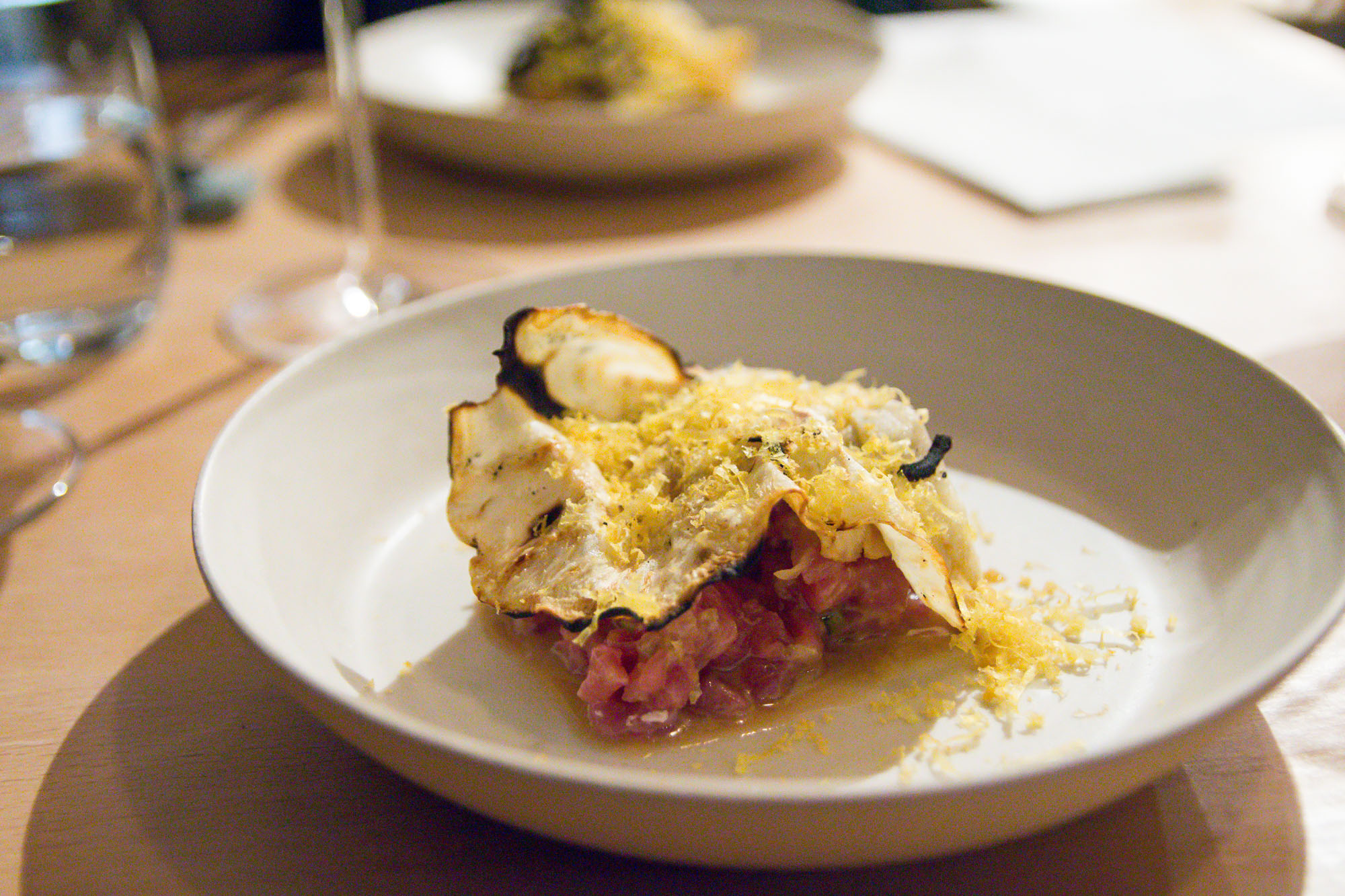 The expertly balanced flavours of the tartare dressing include nasturtium capers, white soy, sesame oil, shallot and elderberry. A wedge of barbecued squash sits in a pool of citrus-scented whey sauce, its buttery flesh adorned with a spectacular yoghurt drizzle and crunchy marmite-toasted sunflower seeds.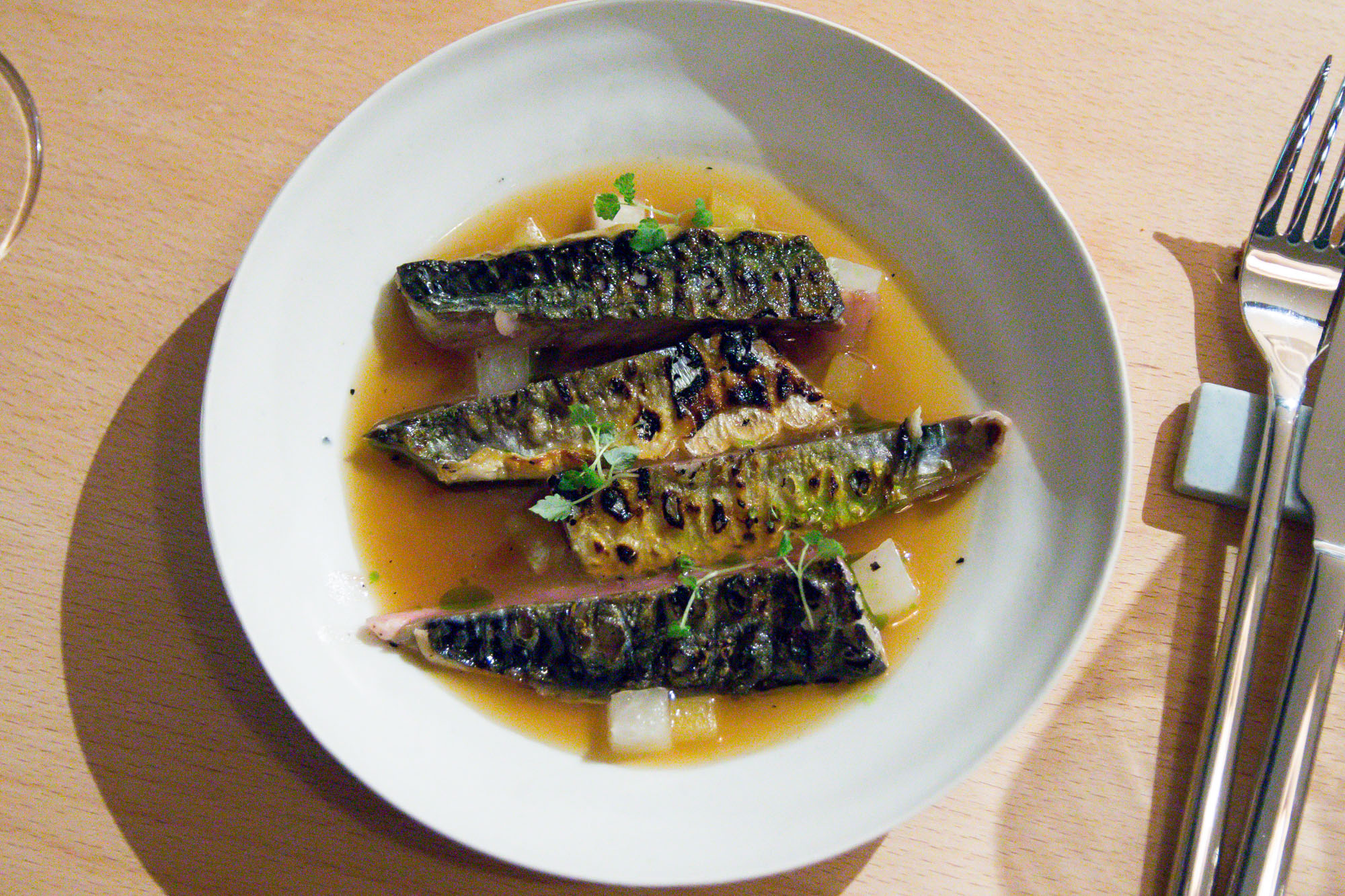 Tillingham End Grain orange wine is the smart choice to accompany the next, truly special dish. Namely, a ceviche of cornish mackerel with its blackened skin glazed umeboshi-style, served with an addictively sweet and smoky turnip dashi. Dotted with little cubes of salted plum and burnt apple, it's pretty as a picture with the flavour to match.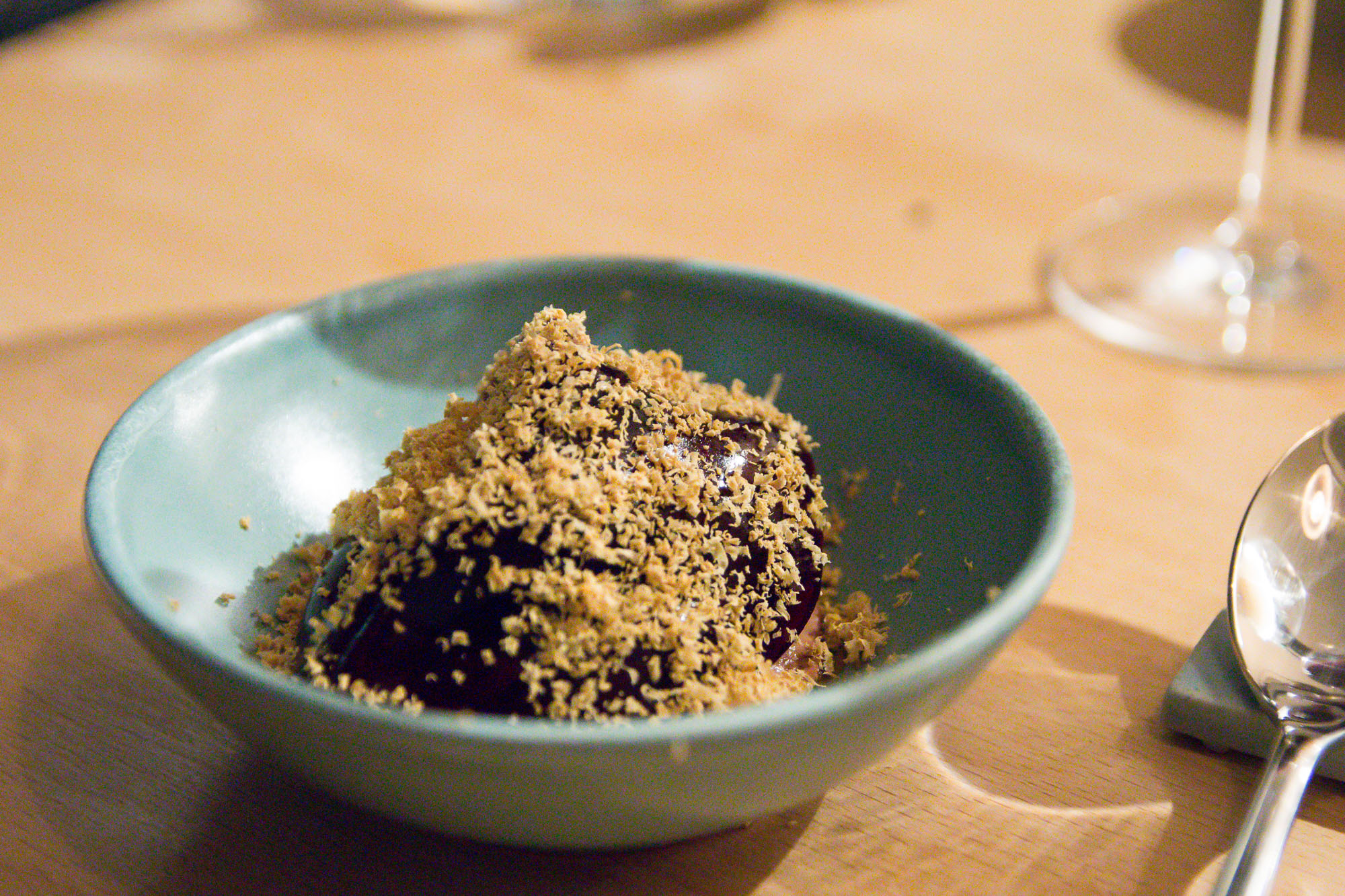 For the finale, the meal goes out with a bang. Another Hand champion local producers, and you can't get much more local than mews neighbour Dormouse Chocolates. Their single estate, bean to bar chocolate is showcased in a duo of whipped dark and set milk chocolate ganache, served with slices of fresh white grape and topped with a glistening ruby disc of set beetroot. The intense chocolate flavour is balanced with sea salt and olive oil, in an absolute triumph of a dessert.
If Another Hand has started as they mean to go on, Manchester food-lovers have a wonderful (not to mention locally-sourced and organic) treat to add to their must-visit list.