The Lion's Den Manchester
Ian Jones, Food and Drink Editor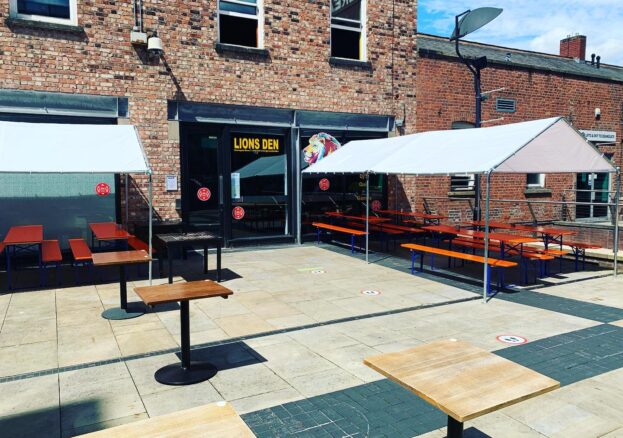 The Lion's Den is a must-visit two-storey bar and live event space tucked away in the sprawling Great Northern complex. It might take a couple of minutes to find but it's well worth the hunt, thanks to its welcoming atmosphere, wonderfully friendly staff, and some of the best small onstage events in all of Manchester.
One of the best-run, most charming venues we've stumbled across all summer
If you want to take advantage of the current balmy weather there's an outside area that catches the sun perfectly – with room for dozens of people and shelter for when Manchester inevitably returns to type and turns into the rainy city. It's billed as a place to work, study and relax, and does all three perfectly. Expect a peaceful space during the day, with a thriving feel late into the evening, plus you'll find retro video games and ping pong for when you want to challenge your mates to the right to be known as King of the Lion's Den.
But as good as this all is – and if you're looking for a new regular haunt, put this top of your list – the live events are the real draw. Every Thursday there's the ridiculously titled The Laughienda, an independent live comedy night, free to enter (it runs entirely on donations) and easily the equal of more established events and comedy venues across the city. It's a wild ride, taking in everyone from budding comics making their very first steps onto the stage, to bona fide TV names trying out new material, then finishing off the bill with a guaranteed belly-aching headliner. All in all, expect ten different acts throughout the night, and if you don't find a comic you enjoy out of that lot maybe it's time to take up gardening.
Bernard Manning's Embassy Club it ain't
There's a diverse mix of acts too, with a decent split between male and female comedians, old and young – it's a welcome step away from the traditional straight white male line-up, and the varied make-up of the crowd reflects this. It's a chaotic night, but with a sense of integrity at its core – Bernard Manning's Embassy Club it ain't. And with lineups that feature the likes of Phil Ellis, Eddie Fortune, Kathryn Mather and Tez Illyas, you're guaranteed some of the best comedy Manchester has to offer.
And comedy is just one element of The Lion's Den. There are open mic live music nights, equally supportive and packed with talent, plus we've heard rumours of a radio station in the building next door set to broadcast some of the above live events. More than just a flat-out brilliant bar, Lion's Den looks all set to make an impact on the city in more ways than one. And we're all for it – this is one of the best-run, most charming venues we've stumbled across all summer.