White at HOME
Gemma Gibb, Associate Editor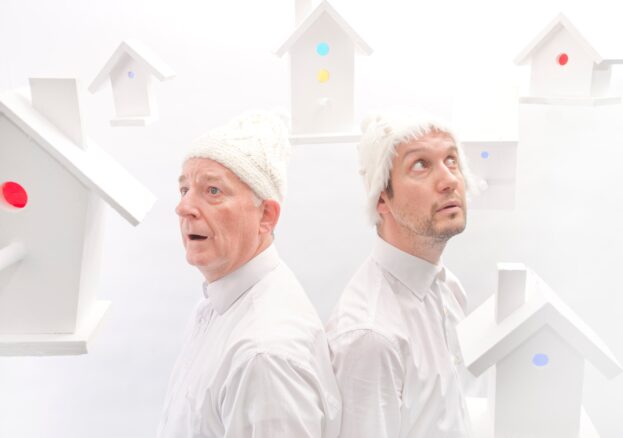 How can a joyful show for 2-4 year olds at HOME, also have relevance to the complexities of the world of us grown-ups today?
This visual tale from award-winning children's theatre company Catherine Wheels ain't received rave reviews from the most prestigious of theatre critics (and, most importantly audiences), the world over for nothing, folks.
Prepare to enter the beautiful and strange world of Cotton and Wrinkle. Two curious characters who clean and care for the white eggs in their charge. Their world is comfortingly simple. They look after the birds and make sure the eggs stay safe. Everything gleams, dazzles and shines. It's full of birdsong and birdhouses and everyone knows what's going on. Until, that is, a bright red egg arrives. Then a yellow. Then a blue.
Cue magic, mayhem and a world both thrown askew and spectacularly transformed. Through ingenious set design that will truly take the little ones' breath away, and much hilarity, expect to see together the joy that new experiences and embracing "otherness" and change can bring.
White may be as far away from a traditional children's christmas theatre experience that we can think of, but it's top of our hitlist this December as a show that will linger long in their memories in time to come.
With a running time of 40 minutes, it's a perfect first theatre experience.