International Anthony Burgess Foundation (IABF)
Stevie Mackenzie-Smith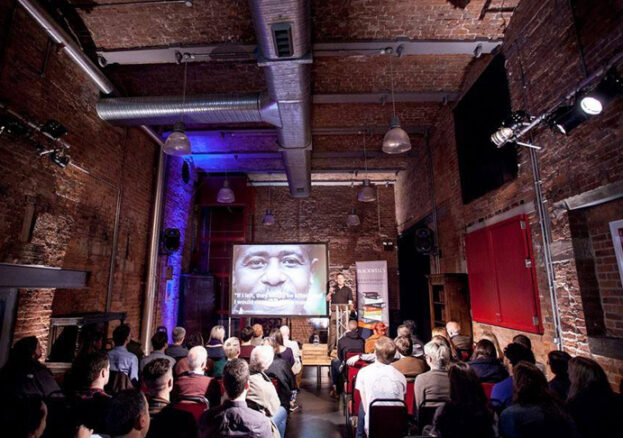 Nestled beneath the chimney stacks on Cambridge Street, in one corner of an old mill, is the International Anthony Burgess Foundation, a modest museum dedicated to one of Manchester's greatest and most prolific writers. It's an intimate place, with a gem of a reading room, an extensive archive – of books, manuscripts and correspondence – and staff who are as blooming lovely as they are knowledgeable. A detour from the bustle of Oxford Road can suddenly turn into an afternoon wiled away in a small but perfectly formed cornucopia of literary history.
Although best known for A Clockwork Orange, Burgess's creative output was astonishingly productive. During his career he penned 33 novels, 25 pieces of non-fiction and two volumes of autobiography. And that's even before touching on his three symphonies and hundreds of musical works; for his love of the piano was as great as that of his typewriters (five of which are on display at the foundation). He once remarked "I wish people would think of me as a musician who writes novels, instead of a novelist who writes music on the side." Three of Burgess's pianos are housed within the collection – sadly missing is the Gaveau upright previously belonging to the famous American performer Josephine Baker; it disappeared around the time of Burgess's death in 1993.
There are no glass cabinets here, no key-locked cupboards
Go past the café, through the mill's old engine room, now filled with assorted mahogany dressers – all belongings of Burgess – and down the stairs and you'll find yourself in the small exhibition space. A fishbowl sits fatly, full of matchbooks that Burgess picked up from hotel bars around the world. Close by, a photograph shows the author happily in holiday mode; suntanned, scruffy, with cigar faithfully in hand.
The reading room is the highlight of the centre. Visitors need to call ahead for access, but once you're in you'll feel right at home. The loud orange floor and matching chairs are a nice touch; a nod to Burgess's most infamous work. The space is disarmingly personal. Burgess's paintings hang from the walls, while his books and records consume the shelves. Other knick-knacks lie along the way; a wooden whale puzzle sits alongside three volumes of Bernard Shaw's collected letters. These items, the hallmarks of a familial sitting room, feel as though they have been lifted quite seamlessly from Burgess's home life. There are no glass cabinets here, no key-locked cupboards: the chance to sit and ponder the groaning contents is a real treat.
Given the nature of the collection, a member of staff is always present in the reading room, though they are never overbearing. You can either be left to your own devices or happily bend their ears for stories. The Tiger Beer anecdote, for example, is a good one to ask after. Burgess apparently contacted the manufacturers of the Singaporean brand after naming his first novel "Time For A Tiger." His request? A free Tiger-branded clock in exchange, please. He was politely declined, but heard back from them years later – once he was famous, of course.
If the reading room is a haven for distraction-free study, then the centre's events programme is better suited to an evening's socialising. Chuck Palahniuk stopped off on a recent book tour, while poetry readings and spoken-word nights are regular features.
After all of the leafing through and poking and prodding, a stop at the café is recommended. The ceilings are high, the brick walls exposed and the light is abundant. Good, strong coffee, loose leaf teas, soups, sandwiches and cakes are all available. But faced with the offer of a "Chockwork Orange" pint, Brentwood Brewery's chocolaty malty beer? Well, it would be rude to the great man not to.