The Tempest at Grosvenor Park Open Air Theatre
Kristy Stott, Theatre Editor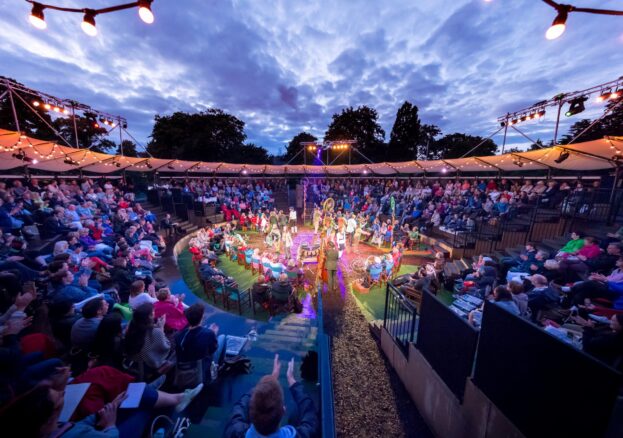 The Grosvenor Park Open Air Theatre, the finest open-air theatre in the north, has been transformed into an enchanted island for this summer's staging of The Tempest, arguably one of William Shakespeare's most respected and well-loved plays.
With Storyhouse's very own Artistic Director, Alex Clifton at the helm, this version of Shakespeare's final and most magical play tells the story of Prospero, a sorcerer and the rightful Duke of Milan. Banished to a mystical island, accompanied by his daughter Miranda, his spirit Ariel and deformed slave Caliban, Prospero raises a storm to shipwreck the men who wronged him to finally take his long-awaited revenge.
This production has a timeless quality – blending old and new fluidly – gender roles are switched bringing female leads, Catherine Cusack as Prospero and Claudia Grant as Caliban. The clever design and lively musical score will see the more traditional aspects of Shakespearian theatre fused seamlessly with contemporary music and 21st-century references.
With Shakespeare's Much Ado About Nothing and Swallows and Amazons  also playing in the open air at Grosvenor park this summer, Director Alex Clifton states that this season is all about 'sitting in a circle, listening to stories together, sharing food and drink under the open skies'. Who are we to argue with that?
With a running time of just over two hours, set in the stunning surroundings of the Grosvenor Park Open Air Theatre, The Tempest is an unmissable open-air picnic (and prosecco) performance.