Chester City Walls
Laura Harris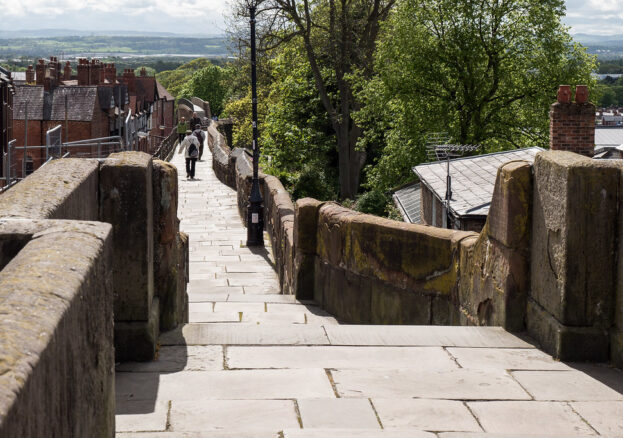 Among everything Chester has to offer, the Chester City Walls are perhaps the most remarkable. Some two miles in length, Chester boasts the oldest, longest and most complete city walls in all of Britain. Parts of the walls are almost 2,000 years old and were initiated by the Romans who famously made Chester a fortress. That said, the circuit that stands today was only completed by the middle of the 12th century, testament to the monumental task that was building these ancient defensive walls.
Today, visitors to Chester can walk the length of the city walls, and feel themselves walking back in time. Doing so is the best way to truly get a sense of Chester, a city drenched in millennia of history. The main access onto the walls is at each of the four main gateways – Northgate, Eastgate, Watergate and Bridgegate. However there are other stairways up to the walls dotted around the city, including accessible ramps.
Conserving the walls has been a key priority of Chester. They are now recognised as a Scheduled Monument, with every section of the walls recorded in the National Heritage List for England as a designated Grade I or II listed building. The walls need constant repair and attention to secure them for future generations, so don't be surprised if part of the wall is closed for renovations on your visit.
Once on top of the walls you'll be rewarded with the spectacular views over the city and its waterways which have so much charm and character. To circumvent the walls takes on average 40 minutes. Although, with countless places to stop and enjoy the view of the river and of Chester Cathedral, be sure to give yourself enough time to soak it all in – and why not pick up a picnic from one of Chester's great delis or market to enjoy along the way?