Suzanne Lacy: We Are Here at Manchester Art Gallery and the Whitworth
Sara Jaspan, Exhibitions Editor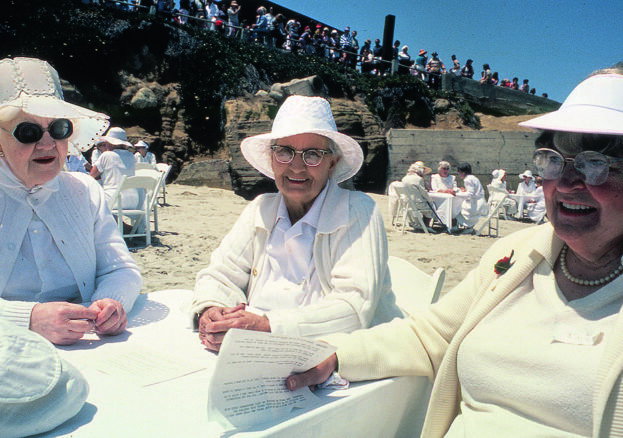 Spanning both of the city's two largest art galleries, the Manchester presentation of Suzanne Lacy: We Are Here marks the only UK stop of a major touring retrospective dedicated to the American feminist artist. Opening early this spring at the Whitworth and Manchester Art Gallery, the exhibition will cover the last five decades of Lacy's career; from her earliest performances, objects, and photographs in the 1970s, to the media interventions and large-scale highly choreographed public actions she has staged over the years, and her latest immersive video installations. At the heart of this prolific output lies a simple emphasis on creating conversations with different people and communities to address key social issues such as rape, violence, racism, immigration, labour rights, aging, and incarceration.
Both halves of the joint-venue exhibition will include examples of Lacy's most important past works. At Manchester Art Gallery, 'The Crystal Quilt' (1985-7) and 'Whisper, the Waves, the Wind' (1983-4) concern the visibility, or invisibility, of older women and their potential as leaders and activists. The former brought 430 women aged over 60 together on Mother's Day in Minneapolis; the later saw 154 older women, dressed in white, convene on a beach in La Jolla, California to discuss their lives, relationships, hopes and fears. Footage from her Tate Modern piece Silver Action (2013), which celebrated acts of activism and protest by hundreds of older women, from the Greenham Common Peace Camp to the Miss World demonstrations, will also be on display.
At the Whitworth, Lacy will revisit her celebrated 2017 project, 'The Circle and The Square', which took place at Brierfield Mill in Pendle across three days and explored the demise of Lancashire's textile industry through Dhikr chanting, Shape Note singing, storytelling, and a large banquet for 500 people. Meanwhile, 'The Oakland Projects' (1991-2001) – a major body of eight works that addressed youth empowerment, media education, and policy – will be brought back to life by young people from across Manchester.
Altogether We Are Here should offer a galvanising overview of an artist whose practice centres around the voices of others and the radical act of coming together. Described as a true pioneer of socially engaged art and public practice, Lacy's UK retrospective is not to be missed.