Stick Man at The Lowry
Shekina Rose, Families Editor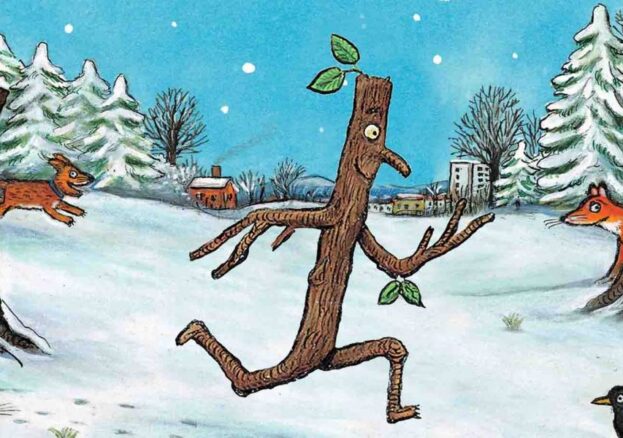 Everyone's favourite Stick Man is back in town and heading to The Lowry this festive season. Unfortunately, he is having a terrible day; what starts off as a regular morning jog has become quite the catastrophe. As he tries to find his way back to the family tree, a dog tries to use him as a fetching stick, a swan attempts to build a nest out of his stick-body, a man uses him as a flag pole on the beach and a child chucks him into the fireplace to warm the house for Christmas Day! Will Stick Man ever make it home to his family tree in time for Christmas?
It couldn't really get much worse for poor Stick Man in this moving, relatable and totally hilarious adaptation of Julia Donaldson and Axel Scheffler's Stick Man by Freckle Productions, which returns to The Lowry in Manchester from 30 November to 9 January to delight families of all ages.
Even the littlest, most wriggliest of theatre-goers will be glued to the drama of Stick Man and its many relatable themes; the helplessness of being small, the warmth and security of family love and the twists and turns of an adventure-filled plot. Santa may even make an appearance, if you're lucky!
Expect strong gusts of snow, funky dance moves, catchy songs to sing along to, live music, and puppetry and set design like you've never seen before, as heartwarming words that many of us know and recognise are brought to the stage for us all to chant along…  'Stick Man lives in the family tree, with his Stick Lady Love and their stick children three…'
So for a (mis)adventure you and your child will never forget, book your tickets for Stick Man at the Lowry today.
Reviews 
'Wonderfully exuberant and imaginative! Our 3 year old was engrossed from start to finish' Time Out Critics' Choice
'Zesty and delightful. A clever compelling treat' Independent