Spring 2019 at Humber Street Gallery
Creative Tourist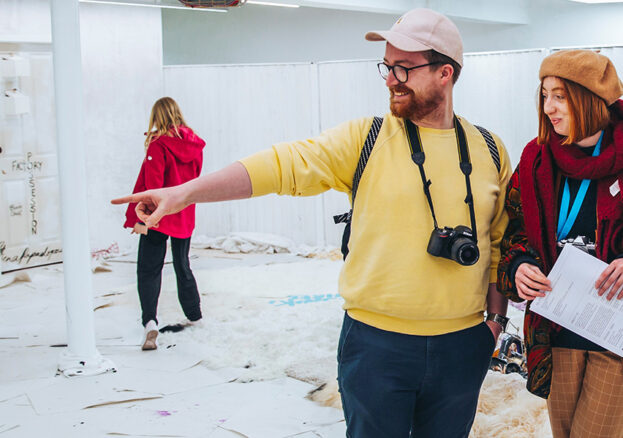 Located in the heart of Hull's increasingly vibrant Fruit Market – now the city's smartly done cultural quarter – Humber Street Gallery has just announced its 2019 spring programme, and we're very excited by what's in store.
Marking the first major UK institutional presentation of work by Canadian-born artist Athena Papadopoulos (recently shortlisted for the prestigious Max Mara Art Prize for Women), A Tittle-Tattle Tell-A-Tale Heart will offer a truly immersive realisation of her recently published handwritten and drawn novel of the same title. Spanning sound installation, costume design, performance and sculpture (made from her characteristic mix of edible, cosmetic and medicinal materials), the expansive exhibition will reflect the themes, spaces and structure of the book – from a 'quarantined zone' enclosing a series of 'hysterical experiences' brought forth by haunted houses, theatre sets and the backyard of a childhood home, through to a stage set upon which notions of exhibitionism will be enacted and explored. A host of performances curated by the artist will also take place throughout the duration of the show.
Occurring alongside, Cut by Graham Jones and Richard Houguez will see the creation of a temporary hairdressing salon in the gallery's recently renamed Project Space, where visitors will be invited to donate stories and offcuts of hair in exchange for a free cut. Both practicing hairdressers at Open Barbers (a hairdressing service for all lengths, genders and sexualities based in North London), the artists will use the material generated to create a sound and sculptural installation that addresses the subject of social expression, art making and self-care.
Following Cut, Hull-based artist Ella Dorton's intriguingly titled Journey To The Centre of The Couch (Couches & Other Good Ideas) will consist of a series of large-scale fabric collages depicting people from her local neighbourhood and the wider city. Like both Dorton, and Jones and Houguez's contribution to the programme, Papadopoulos's exhibition will be similarly interwoven with local stories and mythologies gathered during her multiple trips to the gallery over the past few months.
Overall, this ambitious programme of diverse new work represents a more than tempting reason to jump on the train and head for the north east.