Thieving Harry's
Polly Checkland Harding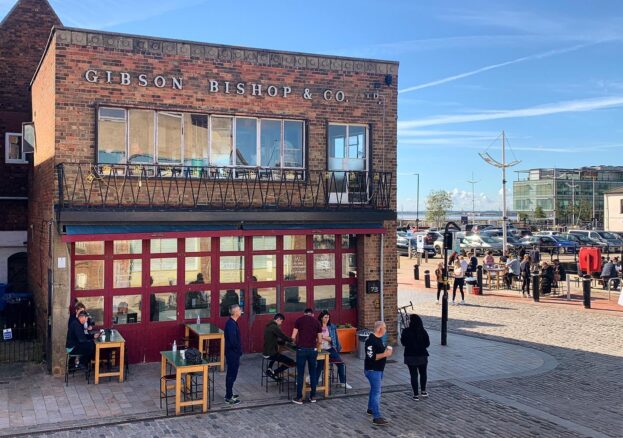 Thieving Harry's is a community café serving breakfast, brunch, lunch, dinner, booze and coffee in a converted warehouse with a down-to-earth vibe, overlooking the marina.
With an elegant balcony, decorative bricks and cobbled street out front, the corner building was once the Gibson Bishop & Co fruit and vegetable wholesalers (the old lettering is still in place above the windows on the first floor). Before the café's assorted seating, house plants and hearty breakfast and brunch menu took over, crates of oranges, boxes of aubergines and bags of onions were stacked behind the building's formerly blue doors. Now it oozes cool, with tables and benches out front for punters to sit in the beautiful coastal light, and awnings hung with lights that glow as dusk falls.
 The café is part of Hull's Fruit Market cultural quarter, neighbour to the Humber Street Gallery, Form Shop & Studio, casual bistro Butler Whites and the Humber Street Distillery Co. Open until late at weekends, with regular live music and DJ nights, the vibe inside Thieving Harry's is laid-back and the menu has comfort food written all over it. Breakfast and brunch options include peanut butter and banana toast, house granola and breakfast rolls, and the café's grilled cheese selection features pork belly as well as bacon and cranberry specials. There are burgers here too, and a drinks menu that covers the usual alcoholic offering as well as pineapple iced tea, smoothies, milkshakes and coffee from speciality roaster The Blending Room.
In fact, Thieving Harry's takes its coffee pretty seriously, using a water filtration system and careful attention to the perfect brewing rations. This is a very modern preoccupation for the former site of the Hessle Gate, one of four main entrances through Hull's walls that once spanned a freshwater moat. A blue plaque describes how, in 1640, the gate was stopped up against the threat of invasion from the Scots, eventually reopened in 1761 and finally demolished around 1800. This is a contemporary café with a long history – and one of the best places for brunch in the city.
Looking for more things to do in Hull? Check out our guide to the city.