Hull Minster
Polly Checkland Harding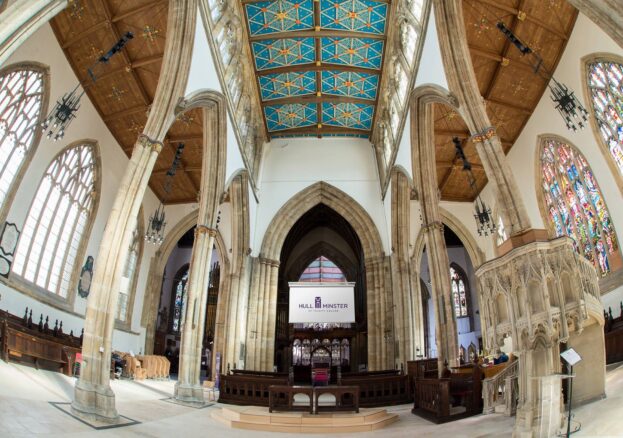 The grandeur of Hull Minster, the UK's largest medieval 'town church', is best appreciated from the wide open space of Trinity Square on the west front of the building. Here, the arched stained windows of the Minster – which dates back 700 years to the late 13th century – are reflected in shallow mirror pools, lasting testament to the piety and ambition of medieval monarchs and merchants. Inside, the views are no less spectacular: intricate paintings decorate the chancel and nave, restored in the 1970s and 1980s with liberal amounts of gold leaf. Stained glass windows in art nouveau style illustrate biblical stories, sending cascades of coloured light down into the space below. There are over 100 pew carvings by local craftsmen, including seven carved mice that were the signature of renowned furniture maker Robert Thompson, and a marble font that survives from around 1380.
This is the spot where leading abolitionist William Wilberforce was baptised in 1759 (Wilberforce House is a seven-minute walk away) and Hull Minster has been a historic site since construction began in 1285 AD – as the carved memorial ledgers on the floor, made from stones imported from the Netherlands in the 17th and 18th century, demonstrate. The Minster also has a world-renowned organ, with over 140 stops and 4,000 pipes, some of which date back to the reign of Queen Anne. Leading songs in Hull Minster's 700-year tradition of choral worship, the organ was last rebuilt in 1938, and (along with the rest of the monumental building) is now marked for a new round of restorations.
Highways England awarded funding worth £3.9 million in March 2019, intended to safeguard the site's incredible heritage and to restore, renovate and extend the building for future locals and visitors. The grant is set to fund archeological excavations on the site of a new extension, itself housing a flexible visitor and heritage centre, with exhibition spaces and a new café. Alongside exterior renovations and internal repairs, the money will support a community garden for homegrown fruit and vegetables, as well as the proper curation and display of over 100 remains found in Trinity Square in 2016. It's a transformative figure, designed to enhance Hull Minster's existing visitor offer, which includes local and national art installations year-round, and tours of the church tower – the tallest public access building in the city, the top boasts views of the Yorkshire Wolds and the Humber estuary.
Due to Covid-19 Hull Minster currently has limited open hours until further notice.