Hepworth Arcade
Polly Checkland Harding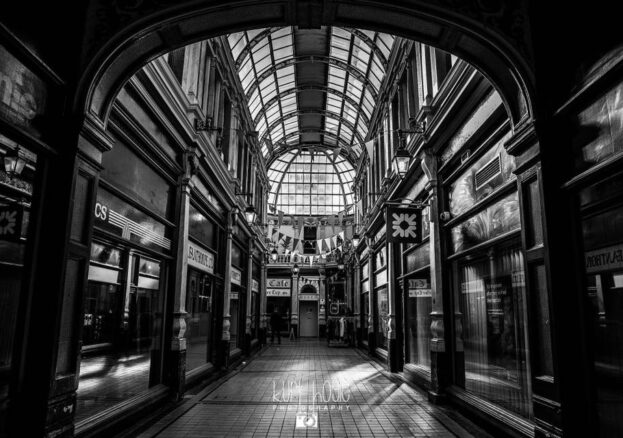 Located in the Old Town, this beautiful Grade II-listed Victorian arcade is home to some of Hull's best-loved and best-known retailers and, with vintage buys and legendary establishments, it's as good for window shopping as it is for actual shopping.
Almost the more retro version of the Paragon Arcade, it sits adjoining the recently refurbished Trinity Indoor Market and Market Square – a foodie hotspot with the likes of Tapasya Kitchen and Vittles & Co resident in its stalls – and Hepworth Arcade is where Michael Marks and Thomas Spencer opened one of their first penny bazaars, later becoming the now world-famous M&S brand.
Joseph Hepworth was the man behind Hepworth Arcade, starting to buy up plots along Market Place in 1888 to build his dream covered thoroughfare, housing chemists, milliners and confectioners. The grand building, with its impressive glass roof and welcoming shop frontages, was completed in 1897 and it is the only L-shaped Victorian arcade in the country.  
These days, Hepworth Arcade is home to local landmark Dinsdales Joke Shop, a fancy dress, pranks, novelties and joke emporium passed down through the family for over 90 years. Equally legendary is Fanthorpes HiFi, the longest established electrical retailer in Hull. Trading since 1948, Fanthorpes sold army surplus radio equipment in its early days, and now deals in everything from radios to complete home cinema sound systems. Beasley's clothing store, meanwhile, has been resident at the arcade for over 30 years, importing vintage and retro wares from America to the heart of Hull.
Relative newcomers include occult shop Brambles, where you'll find wicca, witchcraft and crystal balls alongside incense sticks, salt lamps and tarot cards, as well as collectibles and figurines. Roisin Dubh (Black Rose) sells shabby chic, kitchenalia and boudoir vintage, while Hotham's Gin School is a multi-award-winning visitor experience. A four-hour class here begins with a Hotham's G&T on arrival, before being taken through the process of distilling your own bottle of gin – right up to dipping the stopper in wax to seal it. With a total of four G&Ts throughout the class, and a comprehensive introduction to the history of gin, including Lord Hotham himself, it's quite the way to spend an afternoon.