Humber Street Gallery
Polly Checkland Harding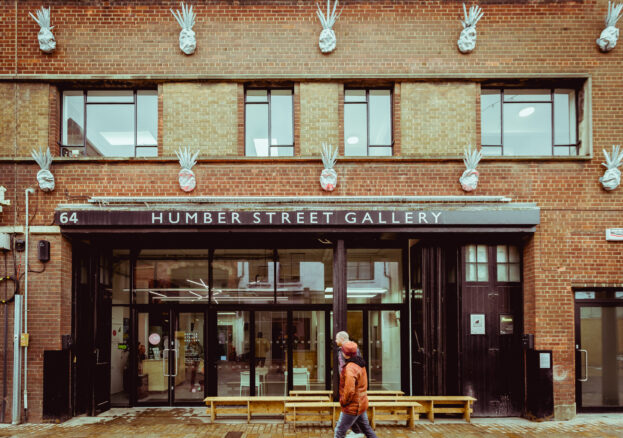 Home to year-round events, performances and activities, Humber Street Gallery is a contemporary art space in the heart of Hull's Fruit Market cultural quarter, open to everyone to experience free world-class exhibitions and events.
Housed in a former fruit warehouse, this high-quality contemporary art space was born from Hull's year as City of Culture in 2017: established as part of the 12-month programme, Humber Street Gallery was designed to be an ambitious new gallery for the city, and to contribute more widely to the visual arts offer in the North. It has been successfully delivering on this aim, holding up to eight contemporary art exhibitions annually, with the programme in development up to two years in advance. There's also a welcoming café on site – recently refurbished and newly decorated with a mural by the artist Noh One, it serves up coffee, cocktails and more.
Humber Street Gallery is run and managed by registered charity Absolutely Cultured, a cultural development organisation that develops work along three main strands: social action and volunteering; learning and development; programming and curating. The latter is focussed on creating meaningful opportunities for Hull's residents, artists and visitors, with exhibitions and events fostering interactions between people that go on to have wider resonance. The organisation's ethos is based on using dialogue to encourage engagement with challenging topics, including climate change, equality and inclusion.
Absolutely Cultured and the Humber Street Gallery are continually looking towards the future: the next ambition is to become a multi-artform and multifunctional creative centre, showcasing a wider range of creative activities including visual art, music and spoken word. Local artists are set to be at the forefront of this new vision, alongside projects from national and international practitioners, with visual art transitioning outside the gallery and into Hull's public spaces – particularly unused buildings and local neighbourhoods. It's a far-reaching and admirable goal, and one that looks set to secure Humber Street Gallery's place in the city's creative scene for a long time to come.
Want more of our recommendations for things to do in Hull? Head here.