Voyage, Hull
Polly Checkland Harding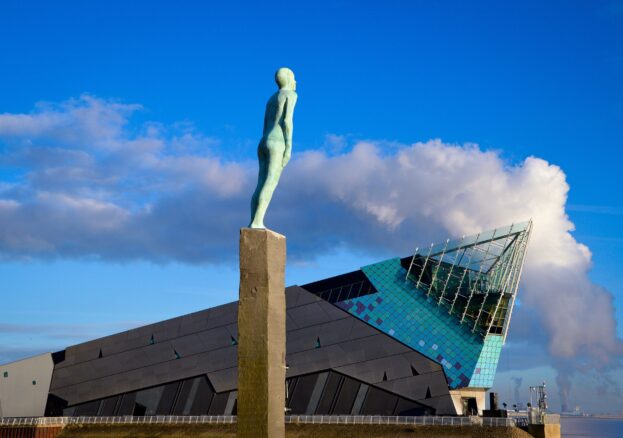 Voyage, a 6ft tall bronze and basalt stone figure standing on top of a towering plinth, looks out across the Humber Estuary from Hull's Victoria Pier – gazing, beyond this, in the direction that thousands of the city's trawlermen once travelled in order to fish the waters around Iceland. Created by Icelandic artist Steinunn Þórarinsdóttir, Voyage has a transatlantic twin: a sister sculpture gazes back in Hull's direction from Vik, a tiny village on Iceland's south coast, its name the Icelandic word for voyage, 'För'.
The two sculptures commemorate decades of trade and shared seafaring heritage; each leaning towards the other, they represent a partnership in which Hull's landfaring residents sought anxiously after their seagoing community, while Vik and other Icelandic ports regularly helped to rescue or shelter Hull vessels caught in dangerous storms. It was a bond that came under strain during what became known as the Cod Wars between the 1950s to 1970s, when disagreement arose over fishing zones, ultimately leading to the decline of Hull's maritime industry; under strain, but never fully broken, as subsequent investment partnerships and trading links helped to rebuild frayed links.
At the 2006 unveiling of Voyage in Hull, Steinunn Þórarinsdóttir said: 'Of all the art projects I have been involved with, this has been by far the most special and meaningful […] I hope the monuments in Hull and Vik are a lasting tribute to the close relationship between our two communities.' It was in recognition of this connection that Iceland first gifted the statue to the city, and that the city then funded a replacement after the sculpture was stolen in 2011, believed to have been lifted for the value of the metal. The replica, cast by the artist in Iceland, still stands – a quiet presence on Victoria Pier, but deeply freighted with history and common purpose.
Looking for more outdoor art? Take a look at our dedicated guide to Outdoor Art in the North.