Poets & Players at Burgess Foundation
Sarah-Clare Conlon, Literature Editor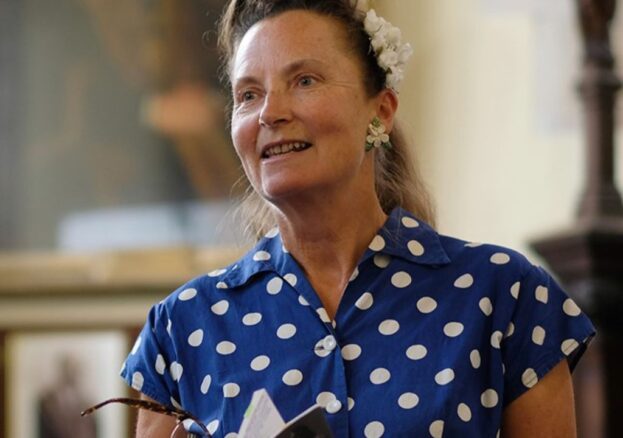 Manchester regular Poets & Players is now fully settled into its new home the International Anthony Burgess Foundation, bringing its fabulous free and friendly afternoons of words and music to a venue replete with grand piano and a collection of harpsichords (and typewriters).
Poets & Players presents performers both established and emerging, and the latest readers are Katrina Naomi, Nick Makoha and Sammy Weaver, with players this month harpist (among other things) Rachael Gladwin and P&P sound technician Chris Davies, of 'The Conference Of Birds' fame. Expect puppets is all we're saying.
Originally from Hay-on-Wye, Sammy Weaver is now based in West Yorkshire. Her debut pamphlet, Angola, America, was published by Seren and won the Mslexia Pamphlet Prize 2021. Her poems have appeared in The Moth, The Irish Times, Mslexia, The Island Review and Anthropocene, and have been anthologised widely. In 2020, she won The Moth Magazine's Nature Writing competition. In 2021, she was shortlisted for a Northern Writers' Award for poetry and Nine Arches Press' Primers scheme. She has a Creative Writing MA from Manchester Metropolitan University.
Nick Makoha's debut collection, Kingdom Of Gravity, was shortlisted for the Felix Dennis Prize for Best First Collection and was one of the Guardian's best books of the year when it was published in 2017. He is a Trustee for the Arvon Foundation and the Ministry of Stories, and a member of the Malika's Poetry Kitchen collective, and he has been writer-in-residence for the ICA London and Wordsworth Trust. He is the founder of The Obsidian Foundation, winner of the 2021 Ivan Juritz Prize and the Poetry London Prize, a Cave Canem Graduate Fellow and an alumnus of the Complete Works. He won the 2015 Brunel International African Poetry Prize and the 2016 Toi Derricotte & Cornelius Eady Prize for his third pamphlet Resurrection Man; this followed The Second Republic and The Lost Collection Of Invisible Man. His poems have appeared in The Cambridge Review, The New York Times, Poetry Review, Rialto, Poetry London, and many more.
Poets & Players presents performers both established and emerging, and the latest readers are Katrina Naomi, Nick Makoha and Sammy Weaver.
Cornwall-based Katrina Naomi is an award-winning poet, performer, mentor and judge. Katrina's new collection will be published in 2024 and her most recent, Wild Persistence (Seren, 2020), received an Authors' Foundation Award from the Society of Authors. Same But Different, a poetic collaboration with Helen Mort (Hazel Press, 2021), won the 2022 Saboteur Award for Best Collaboration, and The Way the Crocodile Taught Me (Seren, 2016) was a #FoylesFiveForPoetry and received an Arts Council Award. She is a recipient of the Keats-Shelley Prize 2021 for her poem 'in the kelp forest', and her work has been shortlisted for the Alpine Writing Fellowship Prize, London New Poetry Award and the Bridport Prize. With a PhD in creative Writing from Goldsmiths, Katrina has had work featured with Poems On The Underground, BBC Radio 4's Front Row and Poetry Please, and in The TLS, The Poetry Review and Modern Poetry in Translation.  
Katrina will be hosting a creative writing workshop for Poets & Players, before the main event on Saturday 22 April. The two-hour session will take place from 10.30am at the Friends Meeting House near Manchester's Central Library. Entitled 'Giving Your Poetry Some Oomph', Katrina will help you get some flamboyance into your work, with a focus on titles, verbs, first and last lines, and generally how to make your poetry stand out. See the P&P website for full details and how to book.