Harry Stachini: Grenade
Ian Jones, Food and Drink Editor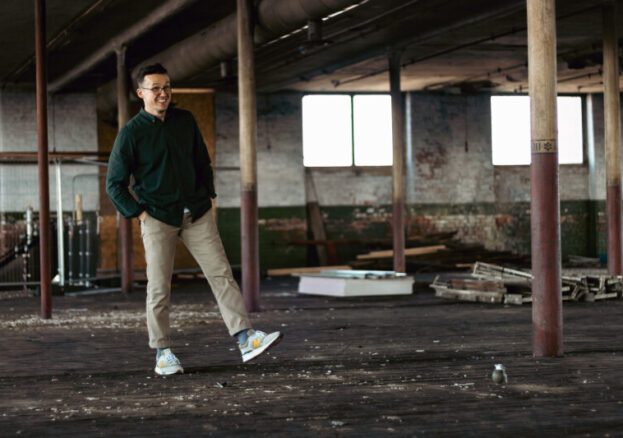 Top Manchester comedian, Harry Stachini, takes to the Cultplex stage for an hour-long comedy show, revealing his 'honesty grenade'. In his case, Harry's grenade upended his life and we're about to find out the hows, the whens and the whys.
The Thursday show sold out in a matter of minutes, leading to this bonus show. Act quick, tickets selling fast. We were lucky enough to have a quick Q&A with Harry ahead of the show.
Q&A with Harry Stachini
Without giving spoilers, what's your show Grenade about? 
Most of us are carrying honesty grenades. Some are small, like farting in a lift and owning up to it. But some are f*cking massive, mate. Mine was medium to large and once I'd pulled the pin, it destroyed an eight-year relationship, a mortgage, and a blue whippet (I never farted in a lift but God do I miss the dog).
In this special I shine a light on my own 'Grenade', the ones we're all carrying in relationships, family dynamics, my years spent teaching future serial killers, and my South-African flatmate, Rico. 'Grenade' is relatable, hilarious, and honest. I can't wait for people to come and see it.
How would you describe your act for those who haven't seen you before? 
The majority of my stand-up is embedded in storytelling and my routines centre around the characters within my family or observations within relationships, and my own personal experiences (I know, truly ground-breaking stand-up comedy). I enjoy interacting with the crowd, finding out about them, and creating a relationship with my audience to bring everyone in the room together for a good time.
I am forever told by people that have seen my gig that my style is very relatable and feels like you're chatting with your mate in the pub. A lot of other comics have described me as an 'everyman' when I'm on stage. My rhythm is easy-going and my delivery is conversational because that's what feels most natural to me. I know my strengths and I'm a man that's built for comfort – not speed.
What are some of your favourite moments from your time gigging around the North? 
I've had some of my best and worst moments on stage at gigs in Manchester. A few months ago just before I went on stage to over 200 people, a 30-man bar brawl broke out like a scene out of a Western, 30 Mancunian John Waynes battered the s**t out of each other. All whilst the comedian on stage provided commentary on the fight and then got the crowd to sing along to 'Close to You' by The Carpenters and even though this happened the gig was still a cracker!
The comedy club crowds in the northwest are funny as well, I've had some belting heckles on stage in the north – I can remember one night at The Frog and Bucket when a bald man untied my shoelace whilst I was on stage because I'd made a joke about his shiny head. Part of the reason I didn't see him coming was because the lights were bouncing off it. My Insta (@Harrystandup) & TikTok (@Harrystachini) pages have loads of videos of the weird and wonderful crowd interactions I've dealt with so you should definitely go and check them out because there are some absolute corkers.
What other gigs/plans/shows do you have for the rest of the year?
At the moment I'm preparing my show 'Grenade' for the Edinburgh Fringe Festival where I'll be performing it from the 4th till the 16th of August. (You can find tickets on the Edinburgh Fringe website). I'll then have it ready to go when I record it live on the 31st of August at The Chapeltown Picturehouse (Cultplex). Whilst working on 'Grenade' I am running Killer Comedy Club nights around Manchester and the North with one of my best mates Lewis Coleman. We've got a number of venues we currently work with in Manchester like The Whiskey Jar, Industry, and The Yard and it's always a mint night because our line-ups are absolutely killer!
One of the things I'm most excited about at the moment is the brand new studio space which I've opened with a few creative friends of mine and the launch of our new podcast 'All Made Up' (another podcast, just what the world needs right now). 'All Made Up' offers something refreshing because it's not just a group of guys talking, but in fact, a storytelling game as each week we are joined by a fantastic guest who joins us in the writer's room to create a story like you've never heard before. We don't know what's around the corner, or what we'll find along the way, as this podcast is exactly what it says on the tin – it's All Made Up.
I'm also disappearing for a month later this year as I'm off to Africa to climb Kilimanjaro and then take a road trip around Namibia. (My mum is sh*ting it and convinced I'm going to either get eaten by a lion, fall off the mountain, or run out of suncream). This is something I've wanted to do for a long time and after a busy year of gigging, podcasts, and writing, I'm very much looking forward to switching off for a while and coming back with loads of brand-new material.
What other comedians or comedy nights would you like to big up?
There are loads of comics at the moment like Josh Pugh, Connor Burns, Jamie Hutchinson, and Dan Nightingale who have created their own audiences through social media. Whereas 10 years ago a lot of comics were waiting for gatekeepers to give them the nod of approval that isn't the case anymore. It's great to see how through things like podcasts, sketches, and stand-up clips that are shared online, comics are able to build an audience that they can tour to.
Gone are the days of needing to appear on Live at The Apollo before you could even think about touring. I have massive respect for anyone who's trying to make it happen for themselves and creating their own content. It's not easy and in the early stages doesn't always show an immediate return. However, it's been shown that if you stick at it and continue making solid content you can build an audience, and with that comes a huge amount of freedom because then you're the master of your own fate.
Anything else you'd like to say?
I am putting it lightly when I say I'm buzzing to perform and record 'Grenade' in front of a packed-out room in Manchester. The support people have shown me over the years is hugely appreciated and it's what allows me to do things like this. I won't ever take that for granted. I know that 'Grenade' is only the start and I've already got my eye on the next venue for my solo show recording. It's a big room but I'm confident that in the next 18 months, we can get there.
The one thing that I love about the past few years of my comedy career is that I've met and built a solid team of incredibly creative people around me and being able to work alongside them is ace! Comedy can be very lonely at times, and that comes with the territory but being able to feel part of a team goes a long way. We're all moving in our own direction but all enjoying the ride along the way together. That's a mint feeling.