Manchester Three Rivers Gin Distillery
Chris Patrick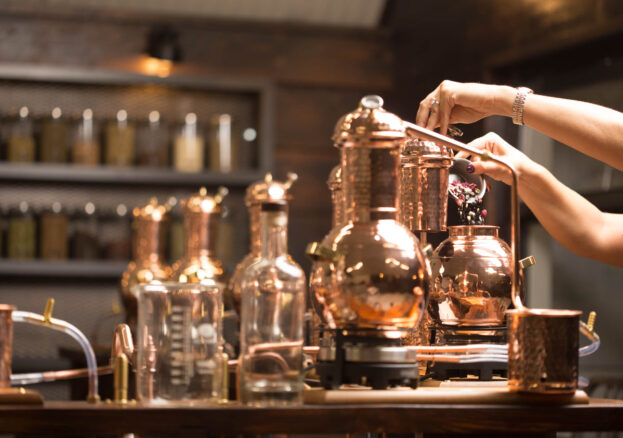 Chris Patrick went along to this distillery for the full Gin Experience:
Though readers may feel disinclined in these wintery times to pass from the bright lights of central Manchester, those who are willing to step just a little out of their way – under a couple of bridges, and down a few dark streets past the Co-operative Human Resources building – will find themselves in a perfumed and shimmering land of mysterious spices. I myself have been there. It is called the Three Rivers Gin Distillery.
Gin has a long history, beginning with Italian monks distilling juniper berries for medicinal reasons based on the practice of Moorish doctors. The practice was eventually taken up by the Dutch, and eventually during the Thirty Year's War it came to the attention of the British, soldiers having noticed the 'Dutch courage' of their gin-drinking comrades. The British gin industry took off a few decades later during a ban on imported French spirits, and gin became a staple drink in the 1700s. Subject to various controversies, the fortunes of gin rose and fell, but it is now firmly back on the scene due to a change in legislation allowing small distillers to create bespoke gins.
Massive and elegant, a system of copper pipes and kettles rises up into the ceiling of the arch
One such is Three Rivers, named for the rivers Irwell, Medlock and Irk. Founded by one Dave Rigby, formerly of Salford University, the distillery occupies small premises below a railway arch. I couldn't quite get over the surprise at finding this strange, glowing alchemist's lodge behind such anonymous doors.
After being welcomed in and treated to the above history lesson (I have left some of the best bits out so you can go and hear it for yourself) we descended some stairs and laid our eyes upon a wonder within a wonder, the huge distilling machine which they call 'Angel'. Massive and elegant, a system of copper pipes and kettles rises up into the ceiling of the arch. This is it: all of the gin comes from this one machine. I almost got cathedral neck looking at it so it's a good job we were all provided with Aviation cocktails at this point. Which let it be said was neither the first nor the last free drink to be given away by our generous and obliging hosts that night.
Next we passed into the adjoining unit, which was set up like a science classroom except that you'd actually want to spend time there. We all had our own little alembics, tiny versions of 'Angel' to make our own gins with. Up on the walls a huge selection of herbs, spices and other ingredients in jars. Tiny measures of these – it's up to you what you put in but full documentation is provided – are put into a little dish, which gets tipped into the alembic along with some pure alcohol. Then heat is applied and the ingredients are distilled, the essence joining with the liquid and running out of a little tap. Then you bottle it and responsibly give it to a family member as a seasonal gift.
Marked out of ten, the Three Rivers gin experience would get an eleven
If I gave marks out of ten for these things the Three Rivers gin experience would get an eleven. This is due to the highly interesting history and science content, which complements all the excellent drinks you get, and the supreme competence and warmth of the hosts. If you're looking for a family night out, a treat for colleagues or an impressive something for a special someone, or indeed if none of these apply to you and you just like gin a lot, follow in my footsteps to the land of spices this festive season.