DRIFT at The Lowry
Johnny James, Managing Editor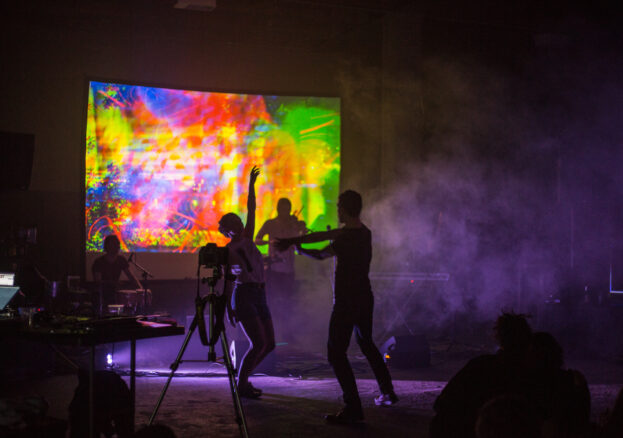 DRIFT is a collaboration between Test Card, VAM and Meraki Collective, formed to create a network to support and showcase artists creating work that combines art with music, technology and performance. You can expect everything from cutting edge electronic music, generative digital visuals, improvised dance and spoken word. It's about celebrating Manchester's legendary underground arts scene and looking ahead to its future.
Jade Parker
Jade is a Producer and Vocalist from Manchester making downtempo electronica. Developing her own style with inspiration from Jessy Lanza and Burial, Jade Parker has an uncanny ability to use space, measured tempo and flawless sonics.
React / Sean & Daniel
React is an audio visual performance between sound designer Daniel Late (Dubonautik) and digital artist Sean Clarke. Exploring the nature of probability, rhythmic patterns are formed through an improvised dialogue between the artist and machine. Utilising the latest real time visualisation software, Sean captures the live audio input and data produced by Daniel, to produce complex patterns which are projected as colour, shape and motion.
Howl Creative
Howl Creative is a collaboration between music, film and dance, which uses new technologies such as motion capture and animation to interpret and capture movement and its relationship with sound. Howl Creative will be creating a brand new piece for DRIFT.
Vital Signs
Vital Signs is an international project that focuses on interdisciplinary play across movement, writing and the body in performance. It's a collaboration between three artists. Sarie Mairs Slee is a trained musician and dancer, and has been working in the messy territories between dance and theatre for the last fifteen years. Scott Thurston has been writing and publishing poetry for over two decades, exploring the possibilities of poetry & movement working with national and international artists. And finally Kate Adams is a dramaturg, performance maker & academic. She works between performance art, dance, poetry & theatre, working across languages and in the intersections between the personal and the political.
The event is PAY WHAT YOU DECIDE. You need to reserve your ticket online but don't need to pay until after the event. All you need to do is collect your tickets from box office. See the show. Applaud. Afterwards pay what you think the show is worth. Simple!