Art Comes HOME at HOME, Manchester
Sara Jaspan, Exhibitions Editor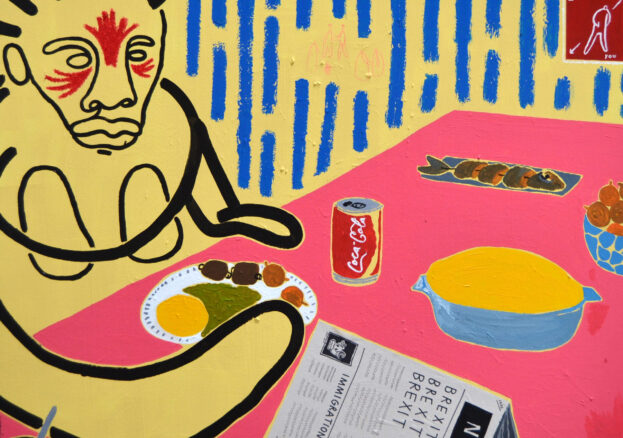 HOME in Manchester is preparing to reopen its main gallery for the first time since lockdown with not one but three simultaneous exhibitions, featuring new work by Nick Burton, Joy Yamusangie and duo Mike S Redmond & Faye Coral Johnson (MSR FCJ). The triple bill is loosely entwined around the theme of isolation, whilst visually connected by the artists' shared use of illustration – a technique described by the show's curator Bren O'Callaghan as deceptively 'childlike', with an underrated capacity to express complex political, social and even spiritual ideas.
The show grew out of Burton's new online comic, Our Plague Year, commissioned and created during the initial months of the Coronavirus pandemic as part of HOME's Homemakers festival. The series offers an alternative retelling of life in the Derbyshire village of Eyam in 1665-66, when the local community made the decision to quarantine themselves to prevent the Great Plague from spreading, and considers how humans respond to moments of crisis. A 'prologue' consisting of the first dozen weekly episodes will be presented within the gallery alongside exclusive new material.
Showing nearby, MSR FCJ's Bubbling Pitch – a series of transitional drawings, paintings and a limited-edition book – responds to the artists' experience of wandering the hallways and Gothic interior of 'a dead person's dark, dream castle' during a residency at Hospitalfield House in Scotland. Now an arts centre, the historic house was originally founded in the 13th century by Tironesian monks as a leprosy and plague hospice called the 'Hospital of St John the Baptist', purchased and remodelled into a private estate in the 1600s, and then later bequeathed by the artist and patron Patrick Allan-Fraser 'for the promotion of Education in the Arts' upon his heirless death in 1890.
Lastly, Blue Glass Fortune is inspired by Yamusangie's vision of a set of blue goblets containing lit candles, flooding a room with light. The meaning remains unknown, only to be revealed with future hindsight, reflecting our inability to fully digest the significance of the past few months whilst still living through their effect. Drawn from a palette of dreams, memories and hopes, the piece leaves viewers adrift in an ultramarine ocean of love and loss, suspended between sleep and wakefulness. Yamusangie's work often explores socio-political themes from a personal perspective, tapping into memory, intimacy, race and culture within the Congolese diaspora.
More nuanced and complex than its jubilant title might suggest, Art Comes HOME should offer audiences a worthy return to the gallery.