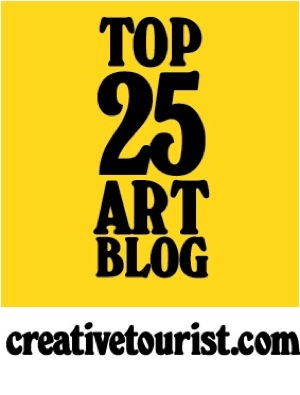 Welcome to the August 2011 list of the Top 25 UK Arts & Culture Blogs
Is it really so long since we updated our top 25 list? Shame on us.  Ironically despite the time lag, for the first time since we created the list the first five blogs haven't changed position.  And a few of our favourites have unfortunately had to be missed off this time as they have been updated within the last month (one of our criteria for eligibility).
We have one new entry; the Aesthetica blog, which is part of the popular arts magazine about contemporary art in the UK and abroad.  There are also a couple of interesting blogs bubbling just under the top 25 and we'd recommend that you check them out.  Absent Without Leave is a blog by artist Ivan Pope, all about his own work and that of other artists and finally we love Hayley Flynn's tumblr blog, a delightful mix of lost letters and the skyline of Manchester.
And as always, if you spot any lovely blogs then do let us know, either by leaving us a comment below, sending us a message on twitter, or by email.
1.  We Make Money Not Art @wmmna
Set up in 2004 by the hugely knowledgeable Régine Debatty, We Make Money Not Art has taken the art world by storm with its eclecticism, style and above all, detailed and fascinating content.
Describing itself as "An online journal about objects and meanings", Things Magazine was originally set up by writers based from the V&A and Royal College of Art and now exists as this engaging website and blog.
3. Making a Mark @makingamark2
Artist and author Katherine Tyrrell draws and writes about art for artists and art lovers.
4. 1000 Words Photography @1000wordsmag
A new entry at number eight, 1000 words is a visually stunning trip through the world of contemporary photography.
5. Frieze Blog @Frieze_Magazine
Clearly a major player in the art world, the Frieze blog allows the editors chance to cover smaller and, at times, more quirky subjects
6. Jonathan Jones on Art (Guardian)
Needing little introduction, this blog by established critic Jonathan Jones is always worth a read.
7. UK Street Art @ukstreetart
Covering street art, graffiti and exhibitions in galleries across the UK, this blog has bags of enthusiasm, spark and intelligent commentary.
8.  Follow the Yellow Brick Road @followtheyellow
Writer and blogger, Katherine Woodfine runs this delightful blog about arts, literature and culture around Manchester and London.
9. Where's Runnicles? @wheresrunnicles
From an Edinburgh based blogger, Where's Runnicles is a review based blog covering both performance and visual arts.
10. Charlotte Higgins (Guardian)  @chiggi
Another site from the Guardian's stable of popular blogs, Charlotte Higgins gives her opinions on a wide range of topics from the Royal Opera, to the outbursts of famous artists, our national museums and Barack Obama's taste in art.
11. Amelia's Magazine @AmeliaGregory
With an appealing style and a host of contributors, Amelia's magazine describes itself as covering "the best underground creative projects in the worlds of art, fashion, music, illustration, photography, craft and design."
12. The Pigeon Post @thepigeonpost
Mainly music focused, this blog was a nominee in the last Manchester Blog Awards and  is rapidly gaining new readers.
13. The Shrieking Violet @natalieviolet
An eclectic mix of posts from this Manchester based blogger, from food and magazines to travel and art.
14. Madam Miaow Says @MadamMiaow
A fascinating mix of culture and political commentary: "Madam Miaow casts a sharp eye over the political and cultural landscape and takes a scalpel and a shotgun to the guilty parties."
15. Culture Vulture @culturevultures
Based in Leeds, these bloggers cover wide-ranging and varied topics; all under the heading: of writing about the "juiciest morsels of culture".
15. Liverpool Art Blog @artinliverpool
This jam-packed blog has been running since the Liverpool Biennial in 2004 and now has thousands of posts that cover arts news and events in and around Liverpool and sometimes further afield.
17. Saatchi Blogon
Part of the Saatchi powerhouse, this blog is packed to bursting with videos, features, news, reviews and interviews.
18. Telegraph culture blog @telegraphblogs
From Cheryl Cole to architecture, art to Jazz, the telegraph culture blogs are nothing if not eclectic!
19. The thing is…
An online magazine of cultural commentary and creative writing with a direct, no nonsense style.
20. Feeling Listless @feelinglistless
An independent blog from Liverpool that has been running since 2000.  Feeling Listless covers every aspect of culture from arts & museums to politics and film.
A fascinating blog about graffiti and smaller more underground exhibitions in and around London, art of the estate is exciting, inspiring and refreshing.
22. Creature Mag @creaturemag
Creaturemag is an artist run online art magazine and blog that displays original artwork and illustrations.
23. Aesthetica Magazine blog @AestheticaMag
Part of the popular online arts magazine, a great mix of art from the UK and aboard.
24.  the FACT blog
Run by the UK's Foundation for Art and Creative Technology, the FACT blog focuses on stories about art and creative technology.
25.  Culture Wars
The online review of the Institute of Ideas in London covering books, films, theatre, art and talk events, with a particular angle of looking how political and other ideas filter through the culture.