Theatre company wins and Manchester's street art gallery gets a second coming in latest round of creative bursaries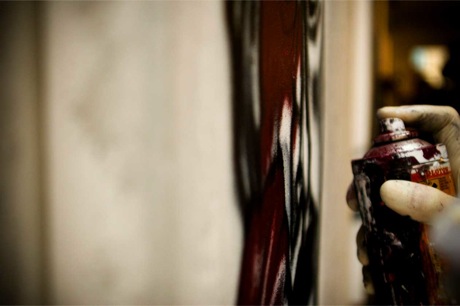 Upper Space Gallery and Fink On Theatre have just been announced as winners in the second round of awards from Umbro Industries, a £10k bursary scheme launched last year by the Mancunian sportswear company (it's been in the city for 85 years or so) that aims to support innovative endeavors within Manchester's creative industries.
Upper Space Gallery were a finalist in the first round of bursaries, and went on to win a £7,200 grant on their second attempt. The group, which includes members of the Sketch City street art and music collective, formerly ran a gallery in the Northern Quarter – a space that launched in 2008 but was stymied by rising costs (in their Umbro application, the group cite the 'unreasonable demands' of the owners of their previous gallery space as one reason for the original venture's demise). The grant will help them set up shop in a new space – they've promised a new gallery, a rip-roaring opening night and an online gallery and shop. Upper Space's Barney Francis described it as 'a unique open studio environment where (the public) can interact with the artistic community.'
Fink On Theatre, meanwhile, swiped a £3,500 grant to help them produce Crying in the Chapel, an original play that tells the story of the Strangeways prison riots of 1990. The grant will specifically finance workshops and free tickets aimed at young and repeat offenders and socially excluded groups. Crying in the Chapel begins a two-week run at Contact from 26 April.'This an extremely ambitious project and we are really happy that the panel believed in us enough to give us the grant,' said Fink On's Nick Clarke.
The seven-member judging panel, which included former Hacienda DJs Mike Pickering and Dave Rofe, photographer Kevin Cummins and guest judge Claire Lomax of Flux Magazine, selected the two winners from a field of nearly 100 entries. And if all this has whet your appetite for your own creative projects, it's not too late to get in on the next round of awards – the deadline for the £10,000 awards is next week – on 11 April. Visit Umbro Industries for more information or to vote on the current entrants' ideas.
Image: courtesy Upper Space Gallery