Dunham Massey
Kristy Stott, Theatre Editor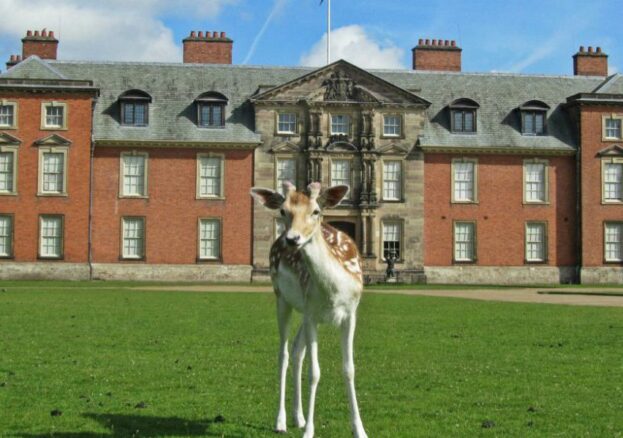 Whatever the weather, Dunham Massey in Altrincham takes our number one spot for a fun outdoorsy day out.
With plenty of space to explore and run free, accessible paths, beautiful gardens and a herd of fallow deer who happily gambol around, Dunham is a beautiful area of parkland close to Altrincham town centre. Perfect for family walks – while there is not a typical playground with swings and slides – there are plenty of natural play areas and log piles for imaginative play and outdoor family frolics.
Part of the Dunham Massey Estate, the park is home to a magnificent collection of ancient trees and stunning formal gardens. A site of national importance, many of the towering oak trees date as far back as the 17th century. And whatever time of year you choose to visit, there is always beautiful planting to admire – from delicate rose gardens and summer blooms to blankets of snowdrops in the winter months.
With a rich and glorious history – as compelling as the landscape it occupies – Dunham Massey Hall offered itself up as the Stamford Military Hospital during the First World War. Covering a whopping 192.7 acres, Dunham Massey was given to the National Trust in 1976 by Roger Grey, the 10th Earl of Stamford. The site went on to gain status as a Site of Special Scientific Interest in 1978. The trees and woodland detritus are a happy home for some of Britain's rarest fungi and bugs.
Make the most of your visit by checking out The Stables Restaurant and Stamford Café – both have reopened with indoor and outdoor seating. And, of course, a day at Dunham would not be complete without a trip to the ice-cream parlour.
Come rain or shine, there aren't many places we'd rather be, than Dunham Massey.