Jessica Lack speaks to electronic artist and self-confessed nerd Rafael Lozano-Hemmer about his new show in Manchester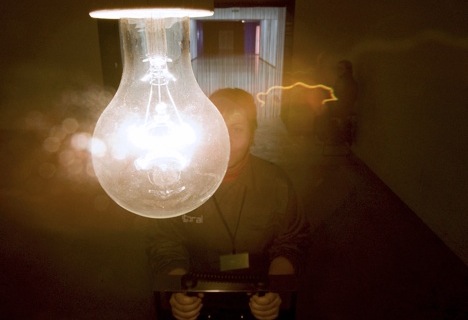 Rafael Lozano-Hemmer is a techno-alchemist artist who builds digital marvels out of phone networks, surveillance equipment and robotics. He can use the human body to tune into radio frequencies or magnify viewers to gargantuan proportions in the space of a slouch, and, ultimately, aims to provide a joyous way of retaliating against the computer systems that continuously track our every movement. Ahead of his new exhibition at Manchester Art Gallery, Jessica Lack catches up with the artist,
When did you first realise you wanted to be an artist?
My parents were nightclub owners in Mexico and they always hung out with artists and musicians. When I was a child I went to their disco club and was impressed by the attention the DJ was getting and how he was creating the scene. I did finish a degree in Chemistry but started doing performance art and radio art right after.
Many of your installations reveal the predatory nature of surveillance and other information networks in our everyday lives. What compelled you to make work like this?
I was very influenced by Manuel de Landa's account of the rise of autonomous executive control in military machines, in his book War In The Age Of Intelligent Machines, which was published in 1991 just as cameras were being placed on smart bombs for use in the first Gulf War. An important development in surveillance that I am responding to was the transition from closed-circuit TV (CCTV), where there is someone watching a monitor, to Computer Vision, where images are analyzed, recorded and classified with relative autonomy from human intervention. Many artists have addressed CCTV technology with great installations – Dan Graham, Julia Scher, Bruce Nauman, Nam June Paik, to name a few.
Did you have any personal experience with this kind of technology that also inspired you?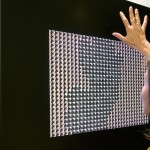 I felt that after September 11 it was crucial to address a new breed of surveillance technology where the machine itself had imbued prejudices and attempted, for example, to detect the ethnicity of people or to compare them against a database of suspicious individuals. My strategy often is to materialize this computerized surveillance, to make it evident, a kind of Brechtian 'noticing of the knots'. Other times I try to misuse the technologies to create feedback loops that allow the public to have a more connective, critical or poetic experience. My work underlines the fact that space is not 'neutral', that overlaid on it are many disparate realities, and that the exploration and acknowledgement of these co-present planes of experience may be beautiful and disturbing.
Your artworks actively encourage and rely on audience participation. Do you ever wish you had chosen a more solitary form of art?
Yes! It is a humbling affair to accept that a work does not exist without the participation of the public. Also, it is often frustrating to relinquish control and let people do whatever they want to do. Yet this is also what makes interactive art attractive, that there is a sense of incompleteness, of improvisation, of surprise.
Yes, there is a real sense of spontaneity and joy in watching people interact with your installations. What is it do you think that the public are responding to?
That depends on the piece! I often say that a good artwork has to be like a good party. American composer Frederic Rzewski called this simply the joy of 'coming together'… people get to self-represent, they have agency.
What has been your most difficult art undertaking to date?
The memorial for the Tlatelolco 1968 student massacre in Mexico City. All my favourite artists – Jochen Gerz, Hans Haacke, Rachel Whiteread – do their best work, in my opinion, when confronted with difficult memorials. How can the murder of hundreds of defenceless students be represented and remembered? How can the piece activate the memory of the tragedy while addressing present day concerns? How can we mourn beautifully and effectively? The resulting installation, Voz Alta [Loud Voice], was my most difficult commission, but it is also the piece that I am most proud of. Not because of what I did but because of the way people took over the piece and expressed themselves.
You are making two new works, Please Empty Your  Pockets and People On People, for Recorders, the Manchester Art Gallery show. Can you tell me a bit about them both?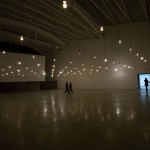 Like the other pieces in the show, both works are 'recorders', where the entire content of the piece is generated by the public. Please Empty Your Pockets is a conveyor-belt similar to that which you might find at an airport. As you put the contents of your pockets on the belt they enter a scanner and they appear on the other side, together with projections of previous objects that people have put in the piece in the past. As you pick up your stuff, it leaves behind an image of itself on the belt so that future participants may encounter it. People On People is a large installation where you see videos of other people inside your shadow while you are simultaneously recorded for future playback. It is inspired by Adolfo Bioy Casares' 1941 novel Morel's Invention, which described a post-photographic device that captured and reproduced portraits in three dimensions. The piece is a new iteration of a series of shadow plays that I have been showing in Britain, including Body Movies shown at the Liverpool Biennial in 2003; Under Scan in the East Midlands in 2006; and Frequency and Volume, shown at the Barbican in 2007.
Which comes first, the technology or the vision when making a work of art?
Both. Often I work backwards, 'parasitically', understanding the constraints and needs of a specific commission and trying to respond, disturb or contribute something to that context. At other times we work with new materials or techniques at the studio and the pieces arise from that experimentation.
With that in mind, if you had all the money, technical ability and time in the world what would you make?
I would bring back my father from his death, take some pictures of him and call the work 'thanks for the memories'.
strong>
Recorders opens at Manchester Art Gallery on 18 September (until January 30 2011) and includes a special late night event as part of The Manchester Weekender. Free entry. People on People is a co-commission between Manchester Art Gallery and the AND Festival. Images (top to bottom): all Pulse Room, 2007, Gijon, Rafael Lozano-Hemmer, except first thumbnail, Close Up, Rafael Lozano-Hemmer.