Working Class Movement Library
Desmond Bullen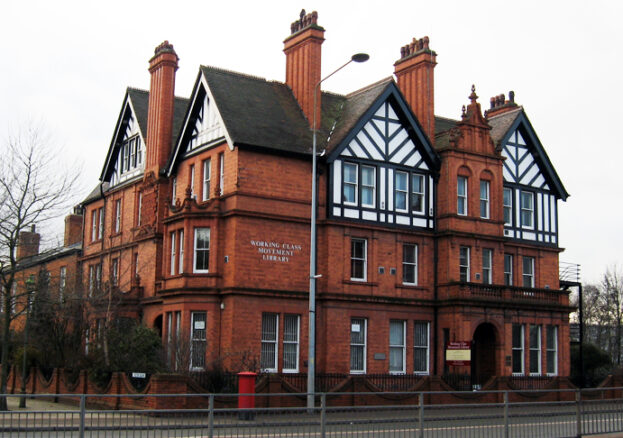 Salford's Working Class Movement Library has some wonderful stories to tell – including its own.
Some stories deserve to be told, some songs demand to be sung – and, sometimes, in order to listen, in order to hear, all it takes is the opening of a door. But first, you might have to ring the doorbell. If you do cross the threshold of the Working Class Movement Library, the former district nurses' home on Salford Crescent, you will pass through a hall lined with display cases. Each shelf represents the opening line of a tale that ought to be heard. There are clandestine letters from H Block of Long Kesh Prison in Northern Ireland, truths written on toilet paper, alongside a Bagpuss doll that connects Oliver Postgate's father to the working conditions in the mouse organ. The Working Class Movement Library is a singular establishment, a Tardis of loosely left-leaning histories. It somehow encompasses not only 30,000 books and over 200,000 pamphlets, but also an array of sometimes unexpected memorabilia and a fascinating history of its own.
The tale at its heart is a romance, but also a very twentieth century narrative; it is the story of Ruth and Eddie Frow. By any criteria, both were remarkable individuals. Eddie – a member of the Communist Party from the age of seventeen until his death – was an active participant in many of the defining protests against the callous austerities of the 1920s and 30s. This activism saw him incur at least one beating from the police but he stood firm, for instance, in the General Strike of 1926. Eddie's indomitable personality is fictionalised in Walter Greenwood's classic Love On The Dole. Ruth's path – from the Women's Auxiliary Air Force to the Manchester Peace Committee – was, perhaps, always likely to cross his. When it did, it was at a day school on labour history, run by the party of which Ruth, too, was a member.
The Working Class Movement Library grew out of their relationship and, at first, out of their home – which was on the same Stretford road on which a Morrissey still in possession of his Christian names struggled towards adolescence. Eventually the collection, swollen by donations, outgrew the Frow's house on King's Road and – thanks to Salford Council – found its current home in Jubilee House. Indeed, when the library first moved, Ruth and Eddie moved with it, living upstairs in a room lined with William Morris wallpaper. Sadly, first Eddie and then his wife passed away, but their collection endures, supported in part by a Heritage Lottery Fund grant secured by Ruth.
Now only the ground floor is open to the public; it is there that the meeting room acts as backdrop to a series of temporary exhibitions, whilst the ceramics room displays (amongst other mementos) a history of socialist causes in mugs. If such a wealth of material is a little overwhelming, then the front room – as Library Manager, Lynette Cawthra, is eager to emphasise – is very much a living room, in a working library. This is a place in which to plot your own journey, to make your own links between the past and the present. Such connections are furthered fostered by the Unlocking Ideas blog, a collaboration between the Working Class Movement Library and the People's History Museum (for which it is occasionally mistaken).
Ultimately though, it is the stories that you find yourself that will resonate the most strongly. The Working Class Movement Library's invitation is succinct and urgent: explore the past, change the future.