The Storm Cone, Peel Park
Polly Checkland Harding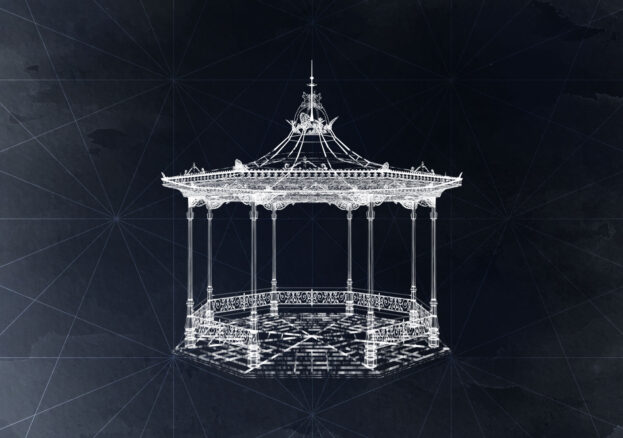 The Storm Cone is a digital artwork and soundscape by artist Laura Daly and composer Lucy Pankhurst, which simulates lost park bandstands and explores their forgotten histories. Sited in both Peel Park in Salford and Chalkwell Park in Southend, visitors will experience The Storm Cone through a free app using headphones, augmented reality revealing the spectral architecture of the bandstand as they listen to the music. The 360 degree soundscape allows the audience to move between the absent players in the brass band, hearing each instrument in detail, before being immersed in eight spatial sound works after the musicians have departed.
The Storm Cone reflects on the slow disappearance of brass bands during the interwar years, 1918 to 1939, a shift that was accompanied by the fragmentation and remodelling of communities. The title of the installation is taken from a Rudyard Kipling poem that, in 1932, gave an advance warning of the coming of World War II: 'THIS is the midnight—let no star
Delude us—dawn is very far.' The artwork takes this haunting premonition, and considers it alongside the strangely cyclical nature of history; the economic downturn, rise in populism, racism and antisemitism that characterise both the interwar years, and the current climate. It's a form of archeology that allows us to draw telling parallels between the past and our own time. Equally, the piece is a celebration of creativity, both historically and in the present day: Lucy Pankhurst's specially-commissioned composition uses sound spatialising technologies to allow different instruments to call back and forth across the footprint of the bandstand. Ghosting the physical presence of the musicians themselves, this technology helps to reincarnate the structure of the bandstand in conjunction with Laura Daly's visuals. Presented at Peel Park, one of the UK's oldest public parks, The Storm Cone was commissioned as part of Rediscovering Salford, a city-wide celebration of Salford's green spaces, inspired by the launch of RHS Garden Bridgewater.