Valley Organics Workers' Co-Op
Polly Checkland Harding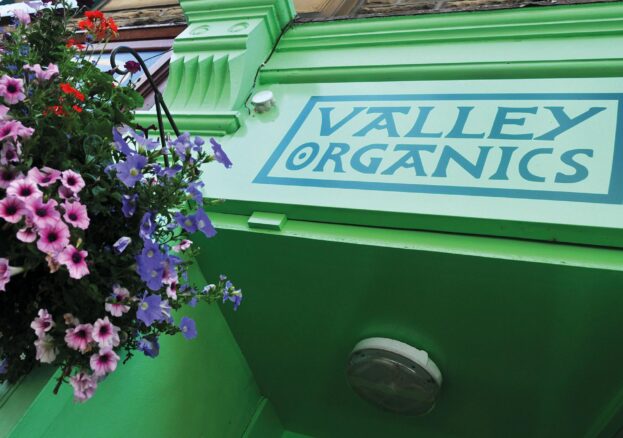 A green frontage signals the location of Valley Organics Workers' Co-Op grocery shop on Hebden Bridge's award-winning high street, diagonally opposite independent bookshop, The Book Case. Valley Organics sells local, organic and ethical vegetables, fruit and wholefoods, as well as refills for customers who bring their own containers – looking to reduce food miles and support the Calder Valley's own growers and producers. Recent expansion into the neighbouring unit, a move that heralded the arrival of a zero waste section, has given Valley Organics more space than ever before for its stock, including fresh, seasonal vegetables and fruit in wicker baskets and wooden crates, and a fridge full of produce that is better kept cool.
The shop first opened in 2001, and became a workers cooperative in 2013, with the aim of promoting healthy, raw ingredients, reusing and recycling where possible, and encouraging greater understanding of the issues that surround food production and distribution. Valley Organics is based around cooperative decision making and an equal pay scheme, with members and employees coming from varied backgrounds including organic farming, business development and community work.
The shop's producers include Sagar Lane Market Gardens, which grows fruit and veg using permaculture principles and without the use of machinery (except for a small van for deliveries), meaning they're very low carbon. Organic cheese comes from the Pextenement Cheese Company in Todmorden, milk from Crib Farm in Luddendenfoot, and freshly baked, artisanal bread from community bakery The Bakehouse in Mytholmroyd. Household products are carefully assessed for their ethical credentials and environmental impact, and there's even a local organic veg box delivery service. Valley Organics has 20 years' experience in taking an approach that's good for the earth – and it shows.