Drink?
Polly Checkland Harding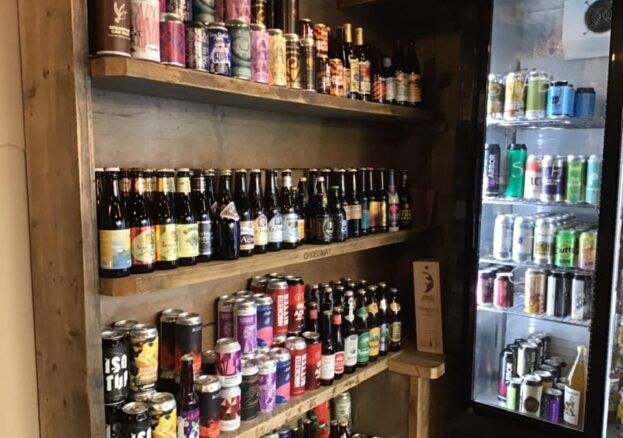 Independent bar and bottle shop Drink? was first established in 2014 as the taproom for Bridestones Brewery, but became a standalone business after the Boxing Day floods in Hebden Bridge the following year. Now kitted out with a 'razzle dazzled' piano and a proper back bar so that a great range of spirits, natural wine and cider is also on offer, Drink? remains focussed around beer, with Manchester Union Lager, Lervig House Party and Delirium Red as the house beers, alongside four rotating keg lines (sour, session pale, IPA and a 'big' line) and three rotating cask lines (session pale, best bitter and dark). The aim is to only stock drinks from independent producers, and Drink is unusual in encouraging visitors to bring food in from any of the many amazing food vendors in Hebden Bridge. They'll even provide condiments and hot sauce, all they ask is that you take your wrappers with you.
The bar is also host to regular events, including a monthly drawing club, home brewers meet-ups and 'pie fidelity' on Tuesdays, for which pies are delivered fresh every Tuesday evening. A hot pie and a pint of beer – heaven. Groups are able to use the front room for free from Sunday to Thursday; the goal is that Drink? will become home to various regular gatherings within the community. All visitors are also welcome to play the resident piano, although the bar does have its own caveats: you have to actually be able to play, they reserve the right to boo you off, and the team maintains that there is never a time or place for experimental jazz. At Christmas, you'll find some of the bar's most talented regulars leading carols and sing-a-longs.
Flooding in Hebden Bridge has twice decimated the inside of the bar, most recently resulting in the need for a complete rewiring in February 2020. This prompted a full refurbishment, with fridges brought in so that cans and bottles were available to customers cold, and shelving repurposed to make a higher platform to raise these above the flooding zone. Upstairs, false ceilings have been removed to reveal red brick and a vaulted ceiling, and the former office and storage space now holds an extra bar with two keg lines serving rotating guest beers on Fridays and Saturdays. There are new booths in the front room, with the back transformed into a cosy snug, while the oversized toilet has been split into two, more modest cubicles with a terrazzo sink. All of the building work has been done by locals, many of whom are regulars, including the artworks on the wall. It's this team effort and the fiercely independent spirit that makes Drink? a fantastic place to enjoy a tipple.